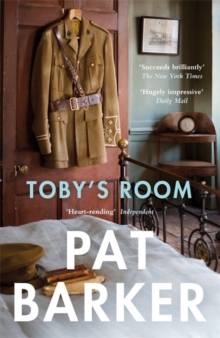 Description
Toby's Room is the second novel in Pat Barker's Life Class Trilogy, returning to the First World War in a dark, compelling examination of human desire, wartime horror and the power of friendshipWhen Toby is reported 'Missing, Believed Killed', another secret casts a lengthening shadow over Elinor's world: how exactly did Toby die - and why?
Elinor determines to uncover the truth. Only then can she finally close the door to Toby's room.
Moving from the Slade School of Art to Queen Mary's Hospital, where surgery and art intersect in the rebuilding of the shattered faces of the wounded, Toby's Room is a riveting drama of identity, damage, intimacy and loss - this is Pat Barker's most powerful novel yet.'Heart-rendering return to the Great War . . . On every level, Toby's Room anatomises a world where extreme emotion shatters the boundaries of identity, behaviour, gender.
Through the mask of Apollo bursts an omnipresent Dionysus' Independent'Once again Barker skilfully moves between past and present, seamlessly weaving fact and fiction into a gripping narrative' Sunday Telegraph'A gripping and moving exploration of the lasting effects of war' Woman & Home'A natural storyteller . . . the reader [will be] torn between wanting to linger over the sheer pleasure of the writing and the desire to rush towards the end to discover how it all pans out' Daily MailOther titles in the trilogy:Life ClassNoonday
Information
Format: Paperback
Pages: 272 pages
Publisher: Penguin Books Ltd
Publication Date: 07/02/2013
ISBN: 9780141042206
Other Formats
EPUB from £4.99
eAudiobook MP3 from £8.00
Free Home Delivery
on all orders
Pick up orders
from local bookshops
Reviews
Showing 1 - 2 of 2 reviews.
Review by aadyer
16/06/2015
A very well written, relatively involving book telling the stories of several people all caught up in em selves, the Great War & it's consequences. As characters, I found none of them strangely that empathic, & I found it difficult to get involved with them although the pacing of the story made it easy to read. Some aspects of the novel I found almost unpalatable & it's was not just in the sense of the War either. It was more the feelings & events prior to it that I found hard to understand or seem plausible. A good read, intriguing at times, very evocative about the primitive conditions associated with plastic surgery of that time & easy to read too. I don't think I'd recommend this, unless you have a specific interest or have read Life Class & want to find out what happened next. I haven't read Life Class & this hasn't made me want to go out & get it.
Review by Helenliz
27/01/2016
This is the second in a series, but it is perfectly readable as a stand alone. Set in two phases, the first part, in 1912, focuses on Elinor & Toby and their family. Toby is at medical school in London. Elinor at the Slade, and starting to wonder what to do thereafter. The family appears to have everything under control but the tensions are simmering beneath the surface. Then there happens an event that has the ability to tear the family apart, should it ever come to light. But the siblings suppress the event and carry on, although there remains a tension between them that can't be put aside. At the Slade, Elinor joins a course in dissection in order to better understand the human form and improve her drawing. In this phase we also meet Kit Neville and Paul Tarrant, both of whom are very different men and each of which has a part to play later. Phase 2 of the novel takes place in 1917, when Toby is notified as missing, presumed killed. Paul is back in London with a wounded leg, Kit returns with severe facial injuries. Elinor is determined to know more about what happened to Toby, and this enhanced by a letter she finds addressed to her in his belongings when they are shipped back.It deals with the feelings of those left at home, as well as those returning from the front, the battles themselves actually play only a small part in the narrative. The interplay between the two very different men is really well done. At times Elinor feels a bit hard and angular, she is struggling to work out her place in the world and the world as it has been turned on its head, both on the world scale and the personal - the reaction to grief is especially interesting. It is a hugely personal thing, with each person's grief being unique, Elinor's takes its shape through art. In the aftermath of Toby's death., the family can no longer play their roles and each of them have to renegotiate their relationships with each other, and that causes the separation between Toby & Elinor's parents to become fact, rather than disguised fiction. This is not the book I thought it would be, the event in phase 1 of the book sets up tensions that echo through the reminder of the story, but neither is it all tied up neatly at the end. The relationships remain unresolved, the future is unclear. There is one, and that's a start. It is really beautifully written, somewhat understated, yet somehow was a page turner, I had to get to the end. Really very good.