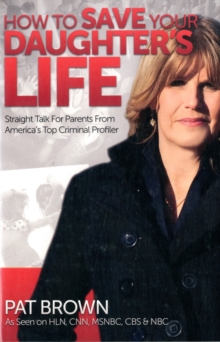 How to Save Your Daughters Life
Paperback / softback
Description
Girls are being stalked, beaten, raped, abused, and murdered by strangers . . . and by the men in their lives. No girl is safe from harm, particularly in today's world where social media makes it too easy to connect with people she barely knows.
There are many dangerous people out there who aren't behind bars, and parents of teen girls need to be more proactive than ever about keeping their daughters safe.
That's the message veteran criminal profiler Pat Brown wants parents of young women to understand.
In this no-holds-barred book, Brown, who is a frequent go-to expert on Nancy Grace and other shows on HLN, CNN, MSNBC, CBS, and NBC, shouts loud and clear that every young woman is vulnerable to a plethora of unforeseen dangers.
Brown has provided crime commentary and profile and forensic analysis in more than 2,000 television and radio appearances across the globe, and she knows what is really going on in the world.
She wants parents and their daughters to understand how predators choose victims, and how to avoid becoming a target.
In How to Save Your Daughter's Life, Brown covers all of the dangers that today's young women face and arms parents with information they rarely get from professionals, including the truth about what behaviors might get their daughters abused, raped, or killed--careless actions and attitudes no one usually talks about.
It may not be pretty, but neither is being a victim.
How to Save Your Daughter's Life will teach parents how to: Understand the world of psychopaths and criminals--how they think, where they lurk, and how they lure and grab their victims Discuss the dangers of cell phones, texting, sexting, Facebook, Craigslist, and the Internet Spot relationships that are dangerous and potentially fatal, including those with teachers, coaches, uncles, bosses, boyfriends, and the fathers of the kids their daughters babysit Help their daughters stay safe by preventing them from drifting into alternative lifestyles, hanging around questionable people, and experimenting with drugs and alcohol Understand the negative impact of certain video games, literature, television, and films, and give them guidelines to channel a young girl's interests and behaviors in a healthy direction
Information
Format: Paperback / softback
Pages: 264 pages
Publisher: Health Communications
Publication Date: 21/08/2012
Category: Advice on parenting
ISBN: 9780757316692
Free Home Delivery
on all orders
Pick up orders
from local bookshops