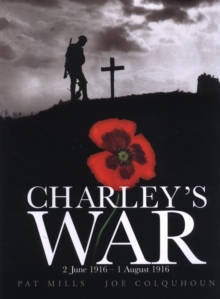 Charley's War (Vol. 1) - 2 June 1 August 1916
Hardback
Description
From renowned UK comics writer Pat Mills (Marshal Law, Slaine) and legendary artist Joe Colquhoun (Johnny Red) comes a truly classic piece of British comics history, by turns thrilling, humorous and horrifying.
In 1916, Charley Bourne lies about his age to enlist and fight on the battlefields of France.
But thoughts of glory and patriotism are swept aside by the bloody artillery barrage of horror and needless sacrifice amidst the trenches of the First World War.
Rich in the detailed minutiae of the terror-punctuated existence of a 'Tommy', Charley's War features a brand new introduction and 'director's commentary' by Pat Mills, a cultural history of the comic, and an essay on the Battle of the Somme.
Information
Format: Hardback
Pages: 112 pages
Publisher: Titan Books Ltd
Publication Date: 26/11/2004
Category: Comics and Graphic Novels
ISBN: 9781840236279
Free Home Delivery
on all orders
Pick up orders
from local bookshops
Reviews
Showing 1 - 4 of 4 reviews.
Review by neotradlibrarian
16/06/2015
As regular readers know, I read graphic novels. Charley's War is top notch, to the point where I slow down and go through it slowly so as to make it last. I will start by highly recommending it.It has an unlikely subject for "comic book" format - trench warfare in World War I. There have been many comix that have shown combat, but they usually glorify it. Charley's War tries to present it in a style sometime called virtual realism. The stories are straight from actual events. The drawings (b&w line in my version) are often based on actual photographs. This reality is quite horrifying enough and qualifies this as an antiwar text.Good natured, not very bright and only 16 year old Charley enlists in 1916 is is sent to the front in time for the Somme. The storyline follows him, his mates and sergeant as they attack, defend, endure poison gas and lose friends and comrades. Originally publishes as comic books, they have been gathered into volumes. The story arc is well maintained, despite the episodic nature of the text.Are the Germans brutal? Yes. So are many of the British officers. Heroes, bravery beyond the call of duty, cowardice, stupidity - everything one expects of a war. Can it make you cry? Without a doubt.
Review by Jargoneered
16/06/2015
While American comics of 1970s were dominated by (mainly) single character monthly colour titles, British comics of the same era were weekly, black & white, and anthologies. The subject matter was different as well - rather than superheroes, British boys* were treated to adventure strips, the majority of which seemed to be based in WWII. The third major difference was that British strips carried no credits, with the exception of 2000 A.D.. (Sadly, they are all gone now - only 2000 A.D. remains).Charley's War was first published in Battle, in 4, later 3, installments from 6 January 1979. Pat Mills, the creator, had worked in comics for years. Joe Colquhoun, the artist, had helped make another Battle strip, Johnny Red popular. (Interestingly, Mills reveals in his notes that he never met Colquhoun despite working together of CW for 6 years - he used to write the script and send it to Colquhoun, and that was that). Opting for a WWI was a risk as traditionally these stories had lacked the dynamism of the WWII stories but Mills felt he wanted to tell the story of the ordinary soldier in the trenches.The premise is simple - Charley Bourne, aged 16, lies about his age and joins up to fight the Hun. The comic strip follows Charley through the last years of WWI and beyond. This first batch follows Charley through his initial call-up to the front and the Battle of Somme**.Despite being in a comic aimed at the young boys CW doesn't pull many punches - characters get suddenly killed by a stray bullet or random shelling (the risk often coming from their own side), they get massacred when charging, they go mad in the mayhem, etc.Colquhoun's art is fantastic, the B&W giving the illustrations an edge that colour would have removed, i.e., the gothic atmosphere of a gas attack when Charley has to fight a German soldier hand-to-hand in order to steal his mask, or the last major cavalry charge that ended in carnage. The level of detail, and the accuracy, of his drawings is something special - especially when you consider he wasn't particularly well-paid for this work. (Not giving credits to the artists was a way of keeping pay-rates down).Mills script is solid, keeping the action going but still allowing for some moments of contemplation of the horror surrounding Charley. This batch of strips is slightly different from the others as Mills initially used letters between Charley and his family as a way to undercut the visuals. (In his notes, he states that he dropped the letters as they became constraining to the story). There are some cliches still - Mills is an an old-style leftist with strict ideas of class, hence some of the officers are unfeeling, cowardly, etc; Charley's platoon contains a comedian, a strong man, etc. (Mills' notes on the script have some strong words on historians who don't tow the line of the British upperclass officer using the ordinary Joe as cannon fodder). On the other hand, the Germans are not faceless villains, or inhumane killers - they have the same mix of characters as the British.Obviously, being a comic means losing some psychological depth but this book is superior to any number of novels on WWI - it hits hard and relentlessly. Despite the plethora of highly regarded British comics creators over the last 20 years this is probably still the best comic to come out of the UK - it may have a claim to be the best comic produced in English. The adventures of people in lurid spandex doesn't hold a candle to this.Highly recommended.
Review by wyvernfriend
16/06/2015
The start of Charley's story in World War I. Charley volunteers, underage, to fight in World War I and in Battle Magazine they tell his story. Charley is an everyman, not based on a real person but based on real stories and experiences from that time. Not written in praise of war but to shine a spotlight on how horrific it all was, how many young men lost their lives, often needlessly. An important series and one that I only caught pieces of during my youth. It's pretty graphic, but graphic because that's how things were rather than being needlessly graphic, a story that needs reading and a good teaching tool to bring World War I to life for people. There's a lot of detail in the story.The book provides not only an introduction but commentary and an essay putting Charley's War in context.This is one of those books that both myself and my husband read and found interesting.
Review by PolymathicMonkey
16/06/2015
"We've got a right Charlie here, Sarge, he says he is eighteen — but he can't even add up! He's given his date of birth as 1900!""You don't need to be clever to fight in the trenches — he's a tough-looking lad — he'll do!It's 2 June, 1916, and young Charley wants to help out his country, even though he's not old enough to enroll. He's not the brightest crayon in the box, but he's a good kid, so he decides to try and fib it. The recruiters accept him anyhow, since they need bodies, and, as the "sarge" points out, he's a tough-looking lad. Charley is just in time to start getting acquainted with life in the trenches before going into the Battle of the Somme, which began on 1 July, and cost 20,000 British soldiers (including 60% of their leading officers) their lives on that day, while another 40,000 were injured. By the time the battle was over the Allies had made few gains and never penetrated further than seven and a half miles, yet the cost was 420,000 British casualties and another 200,000 French.Pat Mills was none too pleased with the overly many "war is hell" style items that, as he says, "may claim to be anti-war but are actually not. [...] I'm told US soldiers watched the 'War is Hell'-style movies, such as Full Metal Jacket and Apocalypse Now, to psyche themselves up just before going into combat in Iraq. I doubt those same US soldiers also watched All Quiet on the Western Front, which was one of the role models for Charley." He wrote something deeper, a heavily researched character-driven drama, with controversial anti-war statements right in your face, unable to be ignored. Not only was his story anti-war, but he also kept center the fact that WW1 was at heart a class war. His amazingly written story combined with Joe Colquhouns brilliantly detailed art, is unrivaled."Tell Aunty Mabel I'll have a word with General Haig if I sees him. But its funny, you never sees no generals in the trenches."This is something everyone should read. It's deep and moving and angry and real.