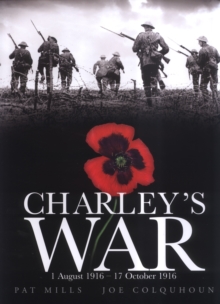 Charley's War (Vol. 2) - 1 August-17 October 1916
Hardback
Description
Renowned UK comics writer Pat Mills (Marshal Law, Slaine) and legendary artist Joe Colquhoun (Johnny Red) continue the thrilling, humorous and horrifying story of World War One soldier Charley Bourne.
It is now the late summer of 1916. Though Charley has survived the early days of the Somme, with treachery on both sides of the wire and a dangerous new commanding officer, triumph and tragedy lie in store as he desperately tries to survive...Rich in the detailed minutiae of the terror-punctuated existence of a 'Tommy', this second volume of Charley's War features a brand new introduction and 'director's commentary' by Pat Mills, plus exclusive extra content.
Information
Format: Hardback
Pages: 112 pages
Publisher: Titan Books Ltd
Publication Date: 03/10/2005
Category: First World War fiction
ISBN: 9781840239294
Free Home Delivery
on all orders
Pick up orders
from local bookshops
Reviews
Showing 1 - 4 of 4 reviews.
Review by neotradlibrarian
16/06/2015
As regular readers know, I read graphic novels. Charley's War is top notch, to the point where I slow down and go through it slowly so as to make it last. I will start by highly recommending it.It has an unlikely subject for "comic book" format - trench warfare in World War I. There have been many comix that have shown combat, but they usually glorify it. Charley's War tries to present it in a style sometime called virtual realism. The stories are straight from actual events. The drawings (b&w line in my version) are often based on actual photographs. This reality is quite horrifying enough and qualifies this as an antiwar text.Good natured, not very bright and only 16 year old Charley enlists in 1916 is is sent to the front in time for the Somme. The storyline follows him, his mates and sergeant as they attack, defend, endure poison gas and lose friends and comrades. Originally publishes as comic books, they have been gathered into volumes. The story arc is well maintained, despite the episodic nature of the text.Are the Germans brutal? Yes. So are many of the British officers. Heroes, bravery beyond the call of duty, cowardice, stupidity - everything one expects of a war. Can it make you cry? Without a doubt.
Review by Dennis383
16/06/2015
Collection of serialized comic originally appearing in British publication Battle Picture Weekly that follows an underage British recruit Charley Bourne, a semi-literate working class youth, who finds himself with other British troops in the trenches during the period immediately preceding and during the disastrous (for the troops) Battle of the Somme. Black and white art gives the strip some depth yet spares us the gore that color might have brought out. Occasional postcards to and from home are used to parallel the action in the trenches, sometimes ironically, sometimes not. Supporting characters can be self-centered or heroic, tragic or criminal and War is quickly revealed to be less glorious than it's portrayed to the folks back home. Charley does some of this is his letters home. Mills adds some commentary on individual chapters at the back of the volume and Garth Ennis offers an appreciation. First rate. Additional volumes also produced.
Review by Jargoneered
16/06/2015
The second volume of the renowned Battle strip sees Charley Bourne slip deeper into the hell of WWII.If anything this volume is even harder hitting than the first. Charley finds that the Germans are not his only enemy as he falls prey to British military justice - being made to drill in full pack until dropping and being tethered at the wheel. Charley ends up in this situation because he refuses to participate in a firing squad that executes his commanding officer - his crime is lead his men to safety rather than let them be slaughtered holding a meaningless piece of land.Charley also finds himself involved in the first tank assault, which is a mixture of power, tragedy and farce - WWI tanks being effective but notoriously unreliable, and when stuck being overheated coffins.This volume also contains one of the most shocking moments in the whole series - when Charley returns to his trench carrying a sack containing the remains of his mate, Ginger, who has literally been blown to pieces.Again, Mills and Colquhoun deliver the goods - a strong, action-packed script and first-rate illustrations.Recommended.
Review by wyvernfriend
16/06/2015
Charley's story the second instalment. Charley encounters Tanks, bullies, shelling, ghosts, and many other of the "glories" of war. The story is simply told, juxtaposed occasionally by letters and cards from home that talk about a different world.It's powerful stuff and should be compulsary reading as part of a history curriculum.