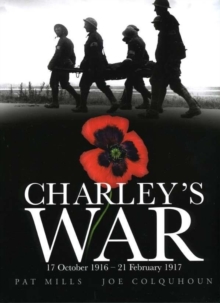 Charley's War (Vol 3) - 17 October 1916 - 21 February 1917
Hardback
Description
Renowned UK comics writer Pat Mills (Marshal Law, Slaine) and legendary artist Joe Colquhoun (Johnny Red) continue the thrilling, humorous and horrifying story of World War One soldier Charley Bourne.
As the winter of 1916 approaches, Charley is caught in a desperate fight for survival against the 'Judgment Troopers'.
Injured in battle, he returns home to convalesce...only to discover that the Germans have brought the war to the streets of London!
Rich in the detailed minutiae of the terror-punctuated existence of a Tommy, this third volume of "Charley's War" features a brand new introduction and director's commentary by Pat Mills, plus exclusive bonus content.
Information
Format: Hardback
Pages: 112 pages
Publisher: Titan Books Ltd
Publication Date: 01/10/2006
Category: First World War fiction
ISBN: 9781845762704
Free Home Delivery
on all orders
Pick up orders
from local bookshops
Reviews
Showing 1 - 2 of 2 reviews.
Review by neotradlibrarian
16/06/2015
As regular readers know, I read graphic novels. Charley's War is top notch, to the point where I slow down and go through it slowly so as to make it last. I will start by highly recommending it.It has an unlikely subject for "comic book" format - trench warfare in World War I. There have been many comix that have shown combat, but they usually glorify it. Charley's War tries to present it in a style sometime called virtual realism. The stories are straight from actual events. The drawings (b&w line in my version) are often based on actual photographs. This reality is quite horrifying enough and qualifies this as an antiwar text.Good natured, not very bright and only 16 year old Charley enlists in 1916 is is sent to the front in time for the Somme. The storyline follows him, his mates and sergeant as they attack, defend, endure poison gas and lose friends and comrades. Originally publishes as comic books, they have been gathered into volumes. The story arc is well maintained, despite the episodic nature of the text.Are the Germans brutal? Yes. So are many of the British officers. Heroes, bravery beyond the call of duty, cowardice, stupidity - everything one expects of a war. Can it make you cry? Without a doubt.
Review by wyvernfriend
16/06/2015
This time Charley is gassed, injured, witnesses atrocities and returns to England where he witnesses Zeppelin bombing. It's graphic and terrible and should be part of every young person's education. People need to see how nasty war is and how people can make assumptions about cowardice, fear and bravery that are misnomers.