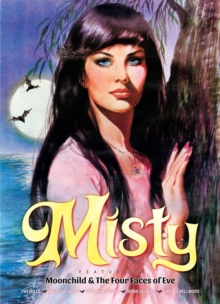 Misty Volume One : Moon Child & The Four Faces of Eve
Paperback / softback
Part of the Misty series
Description
Welcome to my world of mystery and shadows where the unusual is usual...where the unexpected is expected.
MOONCHILD. Like her grandmother before her, Rosemary Black has discovered that she has the power to move things with her mind.
A crescent shape on her forehead marks Rosemary as the Moonchild.
While her jealous mother forbids her to use her new found abilities, the actions of a school bully push Ms Black closer and closer towards temptation and revenge.
THE FOUR FACES OF EVE. Eve Marshall develops amnesia after an accident. Unable to remember anything about her past and haunted by nightmares involving the tragic deaths of three other girls, Eve sets out to discover the chilling truth of who...or what she really is.
These eerie encounters are brought to you by Pat Mills, John Armstrong, Malcolm Shaw, Brian Delaney and, of course, your friend, Misty
Information
Format:Paperback / softback
Pages:112 pages
Publisher:Rebellion
Publication Date:08/09/2016
Category:
ISBN:9781781084526