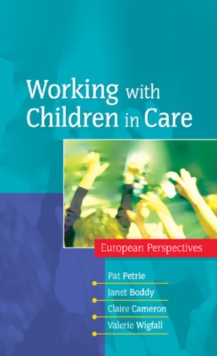 Working with Children in Care: European Perspectives
Paperback / softback
Description
How does residential care in England compare with that of other European countries?
What is social pedagogy, and how does it help those working with children in care?How can child care policy and practice be improved throughout the United Kingdom? This book is written against the background of the gross social disadvantage suffered by most looked-after children in England.
It compares European policy and approaches - from Belgium, Denmark, France, Germany and the Netherlands - to the public care system in England.
Drawing on research from all six countries, the authors analyze how different policies and practice can affect young people in residential homes.
A particular focus is on the unique approach offered by social pedagogy, a concept that is commonly used in continental Europe.
The book compares young people's own experiences and appraisals of living in a residential home, and the extent to which residential care compounds social exclusion.
Based upon theoretical and empirical evidence, it offers solutions for current dilemmas concerning looked-after children in the United Kingdom, in terms of lessons learned from policy and practice elsewhere, including training and staffing issues.Working with Children in Care is key reading for students, academics and professionals in health, education and social care who work with children in residential care.
Information
Format: Paperback / softback
Pages: 208 pages
Publisher: Open University Press
Publication Date: 16/10/2006
Category: Child welfare
ISBN: 9780335216345