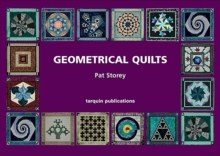 Geometrical Quilts
Paperback
Description
The world of beautiful mathematical diagrams has been explored by Pat Storey.
From the fascinating variety of fractals, spirals and more, she has created a series of stunning quilts. The book contains patterns and detailed instructions for the making of fourteen small quilts; with diagrams and guidance for the construction of four styles of full-size quilts, using the small quilts as blocks. SPIRAL TRIANGLES Logarithmic Spiral Baravelle Spiral Archimedean Spiral THE FRACTALS Sierpinski's Triangle Pythagorean Tree von Koch's Snowflake Lutes of Pythagoras SYMMETRY Rotational Symmetry Reflective Symmetry OTHER Penrose Tiling Tessellation Fibonacci Series Perspective and Optical Illusion Many different techniques have been used in the making of the quilts, including strip-piecing, templates, foundation paper piecing and English paper piecing.
Although the individual quilts are very different from one another, the similarity of borders and cornerstones gives a visual connection to the group. Pat found that many mathematical patterns lent themselves to being made into quilts; and there are many more 'out there' to be found.
One reason for her presenting these quilts in book form is the hope that even those who profess to hate mathematics will fall under the spell of the patterns.
Whatever the case, there is absolutely no need to understand the theory behind the design in order to enjoy making the quilts. Within the series there is a range of difficulty, from those suitable for competent beginners (that is with some knowledge of techniques) up those for quilters who want to try something more challenging than usual.
Information
Format: Paperback
Pages: 100 pages, 100 illustrations
Publisher: Tarquin Publications
Publication Date: 01/11/2007
Category: Quiltmaking, patchwork & applique
ISBN: 9781899618835
Free Home Delivery
on all orders
Pick up orders
from local bookshops