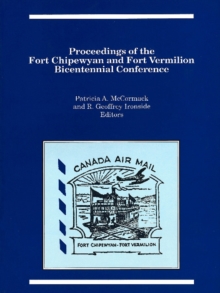 Proceedings of the Fort Chipewyan and Fort Vermilion Bicentennial Conference
Paperback / softback
Description
Focuses on the aboriginal beginnings, histories, present conditions, and future prospects of the regions, touching on prehistory and early contact, the fur trade, farming, the evolving role of government, economic development, and the quality of community life.
Introductions by: R. Geoffrey Ironside and Patricia A. McCormack; Father Lucien Casterman; Pearl Newman; Ross Wein; and J.S.
O'Neill. Papers by: Jennifer S.H. Brown; Morris Zaslow; Michael Asch; Milt Wright; John W.
Ives; Fridolin Marcel; Benjamine Marcel; James M. Parker; Marc Stevenson; Heinz W. Pysczyk; Martin P.R. Magne; Theresa A. Ferguson; C.S. MacKinnon; Shirlee Anne Smith; Michael Forsman; Charles Marten; W.A.
Tracy; Evelyn Hansen; Barbara Angel; Ron Henriet; Alan Hamdon; Frank Ladouceur; Ken East; W.A.
Fuller; Sydney Sharpe; Joyce Paul; Bob Gainer; Earle Waugh; Archie Cyprien; Patricia A.
McCormack; Richard T. Price; Rita Marten; Ron Henriet; Eugene Dextrase; Fred Didzena; Fred Dumont; Alan Wahlstrom; Jerome Slavik; Eleanor Wein and J.
Henderson Sabry; Carl Granath; EdwinWard; Andrew J. Haden and R.G. Ironside; Jake Wiebe; Bill Neufeld; Maureen Clarke; Frank Ladouceur; Leigh Noton; John D. Godrey; Charles Hobart; Henry T. Lewis; Father Lucien Casterman; Maureen Clarke; Theres Tuccaro; R.J.
Carney; Deanna L. Hampel; Abram Janzen; Noreen McAteer; Sister Delia Bourque; Pat Marcel; Roy Vermillion; Elsie Granath; Maureen Clarke; Elsi Yanik; Jean-Guy Goulet; Patrick Moore; Pearl Newman; Patricia A.
McCormack; Dale Idiens; Bryce S. Wilson; Eung-Do Cook; Robert J. Carney; Theresa A. Ferguson; R.G. Ironside; Patricia A. McCormack; Theresa A. Ferguson; Milton Freeman; and R.G. Ironside
Information
Format: Paperback / softback
Pages: 336 pages
Publisher: University of Alberta Press
Publication Date: 01/01/1990
Category: Indigenous peoples
ISBN: 9780919058767
Free Home Delivery
on all orders
Pick up orders
from local bookshops
Also in the Occasional Publications Series series | View all