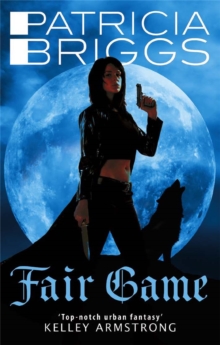 Fair Game : An Alpha and Omega Novel
Paperback
Description
They say opposites attract, and for werewolves Anna and Charles, this is certainly true.
Charles, the pack enforcer, is a dominant alpha - whereas Anna has the power to calm others of her kind.
Now that werewolves have dared to reveal themselves to humans, it's their job to keep the pack in line. The pressure mounts when the FBI requires Charles' assistance.
He's sent on a mission to Boston with Anna, and they quickly realise that a serial killer is targeting werewolves. And that they're next on the killer's list.
Information
Format: Paperback
Pages: 320 pages
Publisher: Little, Brown Book Group
Publication Date: 01/03/2012
Category: Fantasy
ISBN: 9781841497969
Free Home Delivery
on all orders
Pick up orders
from local bookshops
Reviews
Showing 1 - 5 of 10 reviews.
Previous | Next
Review by Fairydragonstar
16/06/2015
I love the mystery and suspense mixed with the romance
Review by MlleEhreen
16/06/2015
It's been a long time since the second Alpha &amp; Omega novel came out and I worried that I'd have a hard time getting back into the groove of this series. Unnecessarily, as it turns out – I sank right into her smooth prose, her familiar characters and world. I'm starting to like Anna &amp; Charles as much as Mercy Thompson, maybe more. <br/><br/>FAIR GAME is bookended by two major world events: the werewolves' decision to make their existence public and…well…something that I can't spoil. <spoiler> hint: it has to do with the fae! </spoiler> The werewolves are trying hard to present themselves as harmless, law abiding citizens and so the wolves who fall out of line, who make mistakes that leave bodies behind, get a visit from Charles. Charles has been very busy killing wolves who'd get a pass otherwise, and the guilt is tearing him apart. <br/><br/>So Bran comes up with a plan. He sends Anna to Boston to help the FBI solve a serial killer case, with Charles along as backup. They hope that giving Charles a chance to play hero and protector will help him banish the ghosts that have been – literally – haunting him.<br/><br/>Solving the serial killer case does help Anna and Charles figure out how to stay sane and happy as a couple. It also leads directly to the second major world event. It turns out the serial killer has been targeting supernatural creatures, mostly fae and recently a few werewolves, subjecting his victims to horrible torture and abuse before killing them in a gruesome black magic ritual. <br/><br/>Anna &amp; Charles team up with a motley crew of law enforcement officials and a grief-stricken fae, the father of the killer's most recent victim. They have to navigate the politics of inter-agency rivalry and a delicate inter-species alliance while gathering clues, which gives Anna an opportunity to shine. <br/><br/>The story kept me interested, but so did the evolving relationship between Anna, Charles, and Brother Wolf. The murder investigation plays second fiddle to their emotional journey, which wouldn't work if I didn't love these characters so much. But I do. They're fun to hang out with and I was happy to wallow in their angst.<br/><br/>I thought this series got off to a weak start, but I'm loving it now. There's a reason why Patricia Briggs is an auto-buy for me. It's always a treat to get a new book from her.<br/>
Review by skylerashcraft
16/06/2015
My favorite of the Alpha &amp; Omega so far. Of course, I get more attached to the characters as we go but this story had a far more daunting bad guy, an intense twist in Charles &amp; Anna's relationship, and a shocker of an ending; one that makes me very glad I read theses before diving into the new Frost Burned. I wouldn't have that shock ruined.<br/>I also have to say: What is with the book cover pictured here. Is that supposed to be Anna? With a gun, straight hair, and leather duster? <br/><br/>There's nothing of Anna in this picture anywhere and it is very misleading about the feel of this book. Really bugs me when covers are so obviously created by someone who knows nothing about the story. Thank god this isn't the cover generally seen. Dan dos Santos has created the most wondrous covers for Brigg's books and I hope to see that continue.<br/>
Review by mlsimmons
16/06/2015
This was a great story. I love Patricia Briggs' werewolves. Both series are great. I read somewhere that you needed to read this before you read the next Mercy book and I can see why. The ending is so unexpected and changes everything for both series.
Review by cranberrytarts
16/06/2015
Can I just say, I did NOT see that twist at the end coming. Whoa. I'm so anxious for the next book to find out what happens next! <br/><br/>Anna and Charles are still learning each other. I like that the going is slow, but I'm a little surprised they aren't doing better with each other since they've now been together two years. <br/><br/>I really like the world Briggs has created. We saw more of it in this novel, since the conflict is away from the pack. <br/><br/>Another strong entry in the series. I couldn't put it down.
Also in the Alpha and Omega series | View all