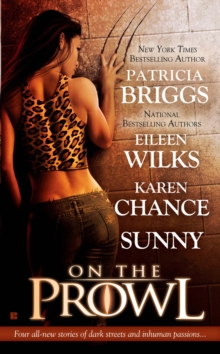 Information
Format: Paperback
Pages: 352 pages
Publisher: Penguin Putnam Inc
Publication Date: 12/06/2007
Category: Romance
ISBN: 9780425216590
Free Home Delivery
on all orders
Pick up orders
from local bookshops
Reviews
Showing 1 - 5 of 37 reviews.
Previous | Next
Review by Jenson_AKA_DL
16/06/2015
This anthology contains four fantasy/paranormal romances. The first by Patricia Briggs takes place in her Mercy Thompson universe without Mercy. Instead this one concentrates on Samuel's brother, Charles, and a illegally made female were (illegal because it was done without her consent), Anna. Anna lived in fear of male weres because after being changed she had been brutalized by the males in the pack. However, Charles immediately knows there is something more special about her than she has been told and the local pack leader has a decided interest in making sure Anna stays with him. The second story is by new-to-me author Eileen Wilks. This story takes place in a world where magic users and magical beings have recently been revealed to the world due to a flux which has made them all stronger. In a town full of suspicion telepath, Kai and her neighbor, Nathan have developed an unusual friendship. However, their friendship could prove to be deadly to them both when Nathan's true self is revealed and Kai is put in jeopardy by an outside murderous force. "Buying Trouble" by Karen Chance seems to be the only truly stand alone story of the anthology. In this a null named Claire is unknowingly put up for auction. When she discovers this Claire is desperate to escape, even if it means joining forces with a mysterious fairie who may be helping her only for his own purposes. I want to mention that in this story Heidar is a stand out character being the first fairie I've read who has a very developed sense of humor :-) The last short is a continuation of Sunny's Mona Lisa series. Although when I first started this series I really enjoyed it, for some reason it seems to be losing its appeal. This story centered on Mona Lisa discovering a horrible new truth about herself and taking a new lover. It was okay but it just wasn't my favorite. Overall I thought this was a very good anthology. The stories become increasingly erotic as they go starting off with the relatively innocent Briggs short and leading up to the much more graphic Sunny one. Another good thing is that I now have two more authors I'd like to read more of, Eileen Wilks and Karen Chance.
Review by imayb1
16/06/2015
I was disappointed in this book. The first story, by Patricia Briggs, is tangentially related to her novels <i>Blood Bound</i> and <i>Moon Called</i>, referencing some of those characters and events while creating a new story. This story best fits the cover title since (unlike the others) it is actually about werewolves. In my opinion, it was also the best this book had to offer. I enjoyed the story, but it is definitely a prelude to her next novel-- and blatantly says so at the end: "Look for the continuation... in August 2008 from Ace Books."The second story, by Eileen Wilks, sets up a scenario of Gifted vs. Everyone Else, wherein the outcasts naturally bond together. The relationships between main characters are well-established from the beginning, although this story provides resolution to the couple's sexual tensions. While the couple comes together, so to speak, their fate is left hanging and the reader is once again informed: "...story will be continued in Eileen Wilks's next lupi book... Night Season."In its favor, the setting had some interesting concepts for an urban fantasy, made up of world-realms overlapping modern time and space, each with their own flora and fauna. It was also enough of a taste of Wilks' writing to decide whether or not to buy her novel, <i>Blood Lines</i>.<i>Buying Trouble</i>, by Karen Chance, has the same urban fantasy setting as her novels, <i>Touch the Dark</i> and <i>Claimed by Shadow</i>, but it introduces all new characters-- including dragons-- and provides a different story altogether. I felt this story was enjoyable overall, but I could tell the author was constrained by word limits and it felt disjointed in places where explanation within a novel would've been good. In particular, I would have liked to know what happened during a (skipped-over) one-week gap in the tale. Still, this story at least held a conclusion without a future continuation teaser.The last tale was, in my opinion, the weakest. Honestly, I couldn't even finish reading because the author's grammar made me cringe too much. From the first pages, it's a tale of a were-tiger queen and her desire to have children. Admittedly, it might have been more entertaining if I'd read its two preceding books, <i>Mona Lisa Awakening</i> and <i>Mona Lisa Blossoming</i>, since this story seems to be a continuation.In all, if you're looking for a taste of these authors or a quick-read love story anthology, this book is a good buy. If you're following a particular author, I think it's safe to say this isn't her best work. If you're looking for werewolves, you'll be disappointed.
Review by ldyanduril
16/06/2015
Novela's by some of the hottest names in Paranormal Romance. I purchased books by all three authors because of this book whetted my appetite for more.
Review by rocalisa
16/06/2015
On the Prowl - Patricia Briggs, Eileen Wilks, Karen Chance and Sunny (8/10)Paranormal romance anthology.The rating here applies to the two stories I read in this anthology (and were the reason I bought the book). Briggs' story, Alpha and Omega, is set in the word of her Mercy Thompson books but features completely new characters. It was a surprisingly short story, but beautifully written and I really enjoyed it. Apparently the publisher did too as Briggs has now been contracted for more stories about Anna and Charles and I'm looking forward to reading them. This story is the meeting between two very differing werewolves and how they compliment each other. Wilks' story is also a further development of an already published world, her world of the Lupi, and again features new characters. Both are intriguing people (and I just loved what Nathan turned out to be) and the story also shows how the world has changed as magic grows stronger and technology less reliable, both results of events in the previous Lupi books. I'm looking forward to more from Wilks as well.
Review by wyvernfriend
16/06/2015
Quite a good collection of short stories about werewolves.Alpha and Omega by Patricia Briggs is about a young submissive werewolf that has found herself in trouble but when she finds someone who understands her isn't sure if she can change. Or if she can submit to yet another person.Inhuman by Eileen Wilks - Kai can sense thoughts and impulses, she senses something about her neighbour Nathan and she's not sure what to do about it all, that and survive.Buying Trouble by Karen Chance - Claire works in an auction house and is surprised to find herself one of the lots. Her future is at stake and maybe many other people'sMona Lisa Betwining - Sunny - Mona Lisa meets another man who is important to both her and the future of her race.I really enjoyed Alpha and Omega, it didn't put more by her on my shelf, she's an autobuy anyway. This didn't disappoint.Eilen Wilks and Karen Chance were quite enjoyable, and made me want more.Sunny makes me wonder about bothering about reading the single full novel, I suspect there might be disappointment.