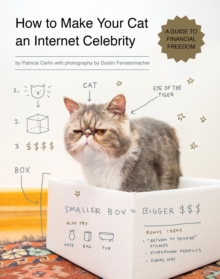 How To Make Your Cat An Internet Celebrity
Paperback
Description
For decades, we believed the keys to personal wealth were a college diploma and marketable job skills-but no more.
Today, your best hope for financial security is literally right at your feet: it's your cat.
The Internet offers an unprecedented opportunity for cats to become superstar personalities and global multimedia brands-but how can a human cash in?
How to Make Your Cat an Internet Celebrity has the answers.
Readers will learn the secrets of grooming their kitty for success, creating a terrific viral video, and making the most of the famous feline's fifteen minutes.
With practical yet tongue-in-cheek advice, this get-rich-quick guide for the modern era celebrates the brightest stars of the Internet and gives you everything you need to follow in their venerable pawprints.
Information
Format: Paperback
Pages: 128 pages
Publisher: Quirk Books
Publication Date: 01/04/2014
Category: Humour
ISBN: 9781594746796
Free Home Delivery
on all orders
Pick up orders
from local bookshops
Reviews
Showing 1 - 5 of 6 reviews.
Previous | Next
Review by LMHTWB
16/06/2015
How to Make Your Cat an Internet Celebrity is a plan to take your cat, find his/her special characteristics, and then market him/her to the world. Sounds impossible? Some cats and their owners have done just that. This book guides you through the process, step by step.I thoroughly enjoyed this book. The photo-illustrations are wonderful! This book kept me laughing from cover to cover. The plan it lays out might work, and not just for cats. (The actual marketing strategies are real -- just applied to cats on the internet!)While I don't think I'll try this with one of my cats, I do have friends who probably NEED this book! Good reading!!!
Review by doggonelaura
16/06/2015
Another hilarious book from Quirk delivers advice about making your cat famous. Lots of great photos and comic suggestionz about how to take a video and/or photos of your cat, edit them, post them, and bring your cat the fame it deserves. Perhaps much of the advice is a little risky to your cat, or to you or your friends, but the author does point out the hazards of staging your awesome cat video. I enjoyed all the instructions, and I don't even own a cat. I have two dogs, and while much of the information can be applied, let's face it, cats are just funnier. This quick read is fun, and while mostly a joke, actually has some good guidance. I never did see information about how you actually make money—and the title doesn't promise that—but that didn't diminish my enjoyment of the jokes….
Review by sixteendays
27/08/2015
Great, funny parody. Great book to share with friends.
Review by AliceaP
16/06/2015
If you want a book that is BURSTING at the seams with funny then you're in luck because How to Make Your Cat an Internet Celebrity is just the book for you. This book is an entrepreneur's dream how-to manual giving step-by-step instructions on how to utilize the gifts of that pesky cat that up until now only slept and destroyed villainous toilet paper rolls. Instead of bemoaning the fact that your cat seems to think her water bowl is possessed by a demon catch her (on tape!) giving it distrustful looks before knocking it flying with a paw. If your cat looks fetching in an ascot (meow!) make sure to grab footage of him strutting his stuff while looking extraordinarily stylish. This book has every tip for making a mint by harnessing the hidden talents of the feline in your life. (Also, the pictures and captions are FANTASTIC.)
Review by KathyWoodall
16/06/2015
My family already think I'm nuts for living in a house with 4 cats. We decided we needed extra money so it just makes sense to make the cats earn their keep. The book gives great advice for dealing with different types of cats such as a complete moron (I have one of these), clinically insane and many others. There is even a section on how to even get your cat to behave during the shooting of video. Honestly after reading the book and doing exactly what I was told all 4 cats became bored and wandered off to take naps.