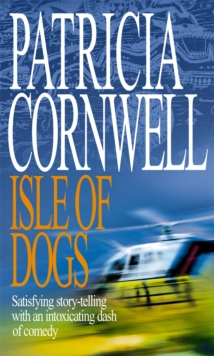 Isle of Dogs : v. 3
Paperback
Description
Chaos breaks loose when the Governor of Virginia orders that speed traps be installed on all streets and highways, and warns that motorists will be caught by monitoring aircraft flying overhead.
But the eccentric inhabitants of Tangier, fourteen miles off the coast of Virginia in the Chesapeake Bay, respond by threatening to secede and set up an independent state, claiming that their independence lies in the history of America's first settlers, those who set sail from London's Isle of Dogs in 1607. Judy Hammer, newly installed as the superintendent of Virginia State Police, and Andy Brazil, state trooper and Hammer's right hand confidant, find themselves at their wit's end as they try to protect the public from the politician's and vice versa in this pitch-perfect, darkly comic romp. With a Swiftian eye for the absurd and a deadly accurate aim on her targets, Cornwell has created another knowing story about real life policing. Visit the author's own website at patricia-cornwell.com
Information
Format: Paperback
Pages: 544 pages
Publisher: Little, Brown Book Group
Publication Date: 06/06/2002
Category: Crime & mystery
ISBN: 9780751531886
Free Home Delivery
on all orders
Pick up orders
from local bookshops
Reviews
Showing 1 - 2 of 2 reviews.
Review by Ozzybald
16/06/2015
Ugh... I finialy finished this one. Definitely not my favorite Patricia Cornwell book. I have read other of her off wall writing style and enjoyed them more than this one. This one was just a little too unrealistic for my taste.
Review by CloggieDownunder
16/06/2015
I read the 3 Andy Brazil books against advice from more than one person. I wanted to see for myself if they really were that bad. I liked the Scarpetta books (although I thought that the endings of some of those books were too rushed, too contrived). The Andy Brazil books are nothing like those! Hornet's Nest is probably the best of the three, although the characters are shallow and unconvincing and the plot is weak and implausible. There is some humour and some sexual tension which is frustrating for lack of relief. 5/10. Southern Cross degenerates from this. Ms Cornwell seems to be having fun at our expense, but the result isn't really funny or vaguely satisfying. 3/10. Isle of Dogs, well, how much lower can you go? What were you thinking, Ms Cornwell? Or what drugs were you on? This book was ridiculous! I persisted to the end of these books because I wanted to give them the benefit of the doubt. Not sure why I bothered. Even if one reads these as tongue-in-cheek romps through the workings of a Police Dept, the final book is hugely disappointing. 1/10. Scarpetta fans who pay full price for these books will feel angry and very much cheated. Luckily I bought mine 2nd hand. Readers whose first taste of Cornwell is one of these books will never buy another. Whatever you do, don't pay full price for these books!
Also in the Andy Brazil series | View all