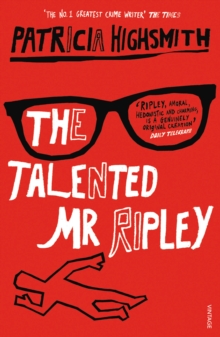 The Talented Mr Ripley
Paperback
Description
Tom Ripley is struggling to stay one step ahead of his creditors and the law, when an unexpected acquaintance offers him a free trip to Europe and a chance to start over.
Ripley wants money, success and the good life and he's willing to kill for it.
When his new-found happiness is threatened, his response is as swift as it is shocking.
Information
Format: Paperback
Pages: 272 pages
Publisher: Vintage Publishing
Publication Date: 01/08/1999
Category: Crime & mystery
ISBN: 9780099282877
Other Formats
Hardback from £10.65
EPUB from £6.99
eAudiobook MP3 from £2.70
PDF from £10.44
Paperback from £9.49
Free Home Delivery
on all orders
Pick up orders
from local bookshops
Reviews
Showing 1 - 5 of 11 reviews.
Previous | Next
Review by GingerPrince
16/06/2015
just superb, claustrophobic thriller. the way she writes the character to be amoral but at the same time the 'good guy' is brilliant. The whole of the Ripliad is excellent.
Review by nigeyb
16/06/2015
This is the second time I have read this book. The first was in 2000, and was inspired by the 1999 film adaptation directed by Anthony Minghella. Sufficient time had elapsed for me to have forgotten most of the detail of both the book and the film. I think this resulted in me enjoying it even more this time round. It's a compelling tale of how the opportunistic and amoral Tom Ripley takes advantage of situations. Tom Ripley is a deeply flawed individual, who - whilst clever and cunning - takes foolish risks and makes occasional mistakes. These ratchet up the tension for the reader. The story is all told from Tom Ripley's perspective, and somehow, despite his reprehensible behaviour, Patricia Highsmith had me rooting for him. The book is full of insights into Ripley's character, including short flashbacks to his dysfunctional childhood that credibly help to explain his personality and behaviour. As I was reading, I became very intrigued about Patricia Highsmith, and - on the basis of the biography on her Wikipedia page - can quite understand how she was able to conceive of a character like Ripley.Ripley is a fantastic character, and this is a well written, psychological thriller.
Review by jmoncton
16/06/2015
If I had to use one word to describe this book, it would be 'disturbing'. Patricia Highsmith does an excellent job of telling this story through the eyes of Tom Ripley, a sociopath who stops at nothing to achieve a life of ease and luxury. I found myself getting caught up with Tom's hopes and emotions that I would alternate between wanting him to be caught or stopped and hoping that he escaped. Definitely a different and twisted story of crime.
Review by ecw0647
16/06/2015
The first Tom Ripley book (I believe) was The Talented Mr. Ripley which has been reprinted in vol. II of The Library of America's magnificent collection of "American Noir" crime novels of the 1950's. Tom begins his amoral life of crime with good intentions, traveling to Europe at the behest of a chance acquaintance to attempt to persuade Herbert Greenleaf's son Dickie to return to the United States. Tom befriends Dickey, but soon in an odd twist, kills Dickey in order to assume his identity (and money). Partly it is because of his jealously of the relationship that has begun to flourish between Dickey and Margie, another expatriate. Soon, however, Tom is forced to kill again in order to protect his new identity when he is recognized in Rome by a mutual acquaintance. The boat that Tom has killed Dickey in is discovered covered with blood, and now the police believe Dickey might have killed Tom. Soon the reader doesn't quite know whom to root for. Tom's credo might be that of modern America: "He loved possessions, not masses of them, but a select few that he did not part with. They gave a man self-respect. Not ostentation, but quality, and the love that cherished the quality. Possessions reminded him that he existed, and made him enjoy existence. It was as simple as that." Highsmith is quite a talent. All the Ripley books are real page-turners.
Review by steadfastreader
16/06/2015
I liked it. The first 30% of this book made me very uncomfortable. I felt that Tom Ripley was... imposing on the other characters. Which of course, he was.<br/><br/>Overall enjoyable.