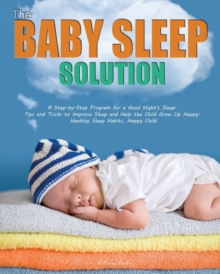 The Baby Sleep Solution : A Step-by-Step Program for a Good Night's Sleep. Tips and Tricks to Improve Sleep and Help the Child Grow Up Happy. Healthy Sleep Habits, Happy Child
Paperback / softback
Description
Thousands of families throughout the world have used the Baby Sleep Trainer method to help their infants and toddlers learn to sleep through the night and take healthy naps, all with the fewest tears possible. Backed by thorough scientific data and years of professional experience, the Baby Sleep Trainer Method offers parents a tried and true solution for children aged 16 weeks through 3.5 years.
This parenting classic shows how to decipher-and work with-your baby's biological sleep rhythms, create a customized plan for getting your child to sleep through the night, nap well during the day, and teach your baby to fall asleep peacefully, and stay asleep, without all-night breastfeeding, bottle-feeding, or requiring a parent's care all through the night.
Step-by-step, comprehensive contents include:
The science of baby sleep habits
How to prepare your child's room for optimal sleep
Discussions on cortisol and crying in babies
Creating healthy sleep habits with newborns
Exactly when and how to start sleep training for nighttime sleep and naps
Tips and tricks for multiples
Troubleshooting common sleep training issues and pitfalls
Detailed eat-wake-sleep schedules for children on 3, 2, and 1 nap
Sleep training toddlers and children in beds
A supportive, sustainable baby sleep plan for sleep-deprived parents
If there's one thing every parent knows―it's that you can't talk your baby into falling asleep. The Baby Sleep Plan is a confident approach to teaching your child the skills to not only get themselves to sleep but stay asleep throughout the night.
The Baby Sleep Plan gives you the lowdown on transitioning to sleep training, such as phasing out naps and pulling back on nighttime feedings.
The Baby Sleep Plan includes:
From A to Zzzz―Exercises, meditations, journal prompts, and real-life stories will help you navigate your baby's sleep needs, decide when to get started, manage bumps in the road, and more.
Self-care for sleep trainers―Check in with yourself daily using self-care ideas, perfect for whenever you need a small break from your little one, including insight on topics like postpartum depression, setting boundaries, and different parenting styles.
Sustained slumber―Keep your child sleeping soundly with baby sleep tips and tricks for training on-the-go, how to adapt a plan for your growing baby, solutions for siblings who have sleepless nights, and more.
With the tips and tricks in The Baby Sleep Plan, you can say goodbye to sleepless nights and hello to a happy and healthy independent sleeper.
Click Buy Now With 1-Click or Buy Now to get started!
Information
Format: Paperback / softback
Pages: 92 pages
Publisher: Patricia Lawler
Publication Date: 20/05/2020
ISBN: 9781952832147
Free Home Delivery
on all orders
Pick up orders
from local bookshops
Also by Patricia Lawler