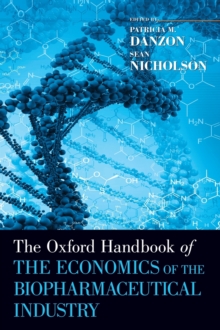 The Oxford Handbook of the Economics of the Biopharmaceutical Industry
Hardback
Description
The biopharmaceutical industry has been a major driver of technological change in health care, producing unprecedented benefits for patients, cost challenges for payers, and profits for shareholders.
As consumers and companies benefit from access to new drugs, policymakers around the globe seek mechanisms to control prices and expenditures commensurate with value.
More recently the 1990s productivity boom of new products has turned into a productivity bust, withfewer and more modest innovations, and flat or declining revenues for innovative firms as generics replace their former blockbuster products.
This timely volume examines the economics of the biopharmaceutical industry, with 18 chapters by leading academic health economists.
Part one examines the economics of biopharmaceutical innovation including determinants of the costs and returns to new drug development; how capital markets finance R&D and how costs of financing the biopharmaceutical industry compare to financing costs for other industries; the effects of safety and efficacy regulation by the Food and Drug Administration(FDA) and of price and reimbursement regulation on incentives for innovation; and the role of patents and regulatory exclusivities.
Part two examines the market for biopharmaceuticals with chapters on prices and reimbursement in the US, the EU, and other industrialized countries, and in developingcountries.
It looks at the optimal design of insurance for drugs and the effects of cost sharing on spending and on health outcomes; how to measure the value of pharmaceuticals using pharmacoeconomics, including theory, practical challenges, and policy issues; how to measure pharmaceutical price growth over time and recent evidence; empirical evidence on the value of pharmaceuticals in terms of health outcomes; promotion of pharmaceuticals to physicians and consumers; the economics of vaccines;and a review of the evidence on effects of mergers, acquisitions and alliances.
Each chapter summarizes the latest insights from theory and recent empirical evidence, and outlines important unanswered questions and areas for future research.
Based on solid economics, it is nevertheless written in terms accessible to the general reader.
The book is thus recommended reading for academic economists and non-economists, and for those in industry and policy who wish to understand the economics of this fascinating industry.
Information
Format: Hardback
Pages: 624 pages, 41 illustrations
Publisher: Oxford University Press Inc
Publication Date: 24/04/2012
Category: Economics
ISBN: 9780199742998
Free Home Delivery
on all orders
Pick up orders
from local bookshops
Also in the Oxford Handbooks series | View all