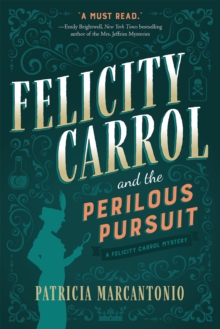 Felicity Carrol And The Perilous Pursuit : A Felicity Carrol Mystery
Hardback
Description
Felicity Carrol is interested in everything except being a proper young matron of Victorian society.
Brilliant and resourceful, Felicity took refuge in science and education after her mother died and her father abandoned her to servants.
Now, all he wants is for her to marry into a family of status and money.
Felicity has other ambitions, but her plans shudder to a halt when her mentor is murdered at the British Museum and his priceless manuscript of King Arthur lore is stolen.
Tapping into her photographic memory and the burgeoning field of forensic detection, Felicity launches an investigation.
Handsome Scotland Yard Inspector Jackson Davies is also on the case, and finds Felicity as meddlesome as she is intelligent.
Information
Format: Hardback
Pages: 320 pages
Publisher: Crooked Lane Books
Publication Date: 12/02/2019
Category: Crime & mystery
ISBN: 9781683318965
Also by Patricia Marcantonio