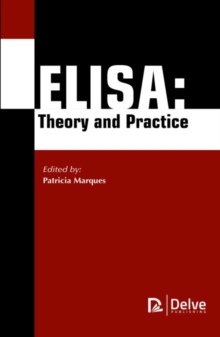 ELISA : Theory and Practice
Hardback
Description
ELISA (enzyme-linked immunosorbent assay) revolutionized the way to detect antibodies and antigens, by using an enzymatic system instead of radioactive labelling.
This technique has been widely used since its development for disease diagnostics and other purposes.
A quick Pubmed search will give you more than 23000 manuscripts peer-reviewed and published, using this assay. The ELISA technique was conceptualized and developed by Peter Perlmann, and Eva Engvall at Stockholm University, Sweden.
Engvall and Perlmann published their first paper on ELISA in 1971.
Solid-phase techniques were used in the development of microtiter plates (96 wells) in which either an antigen or an antibody is non-covalently bound to a solid-phase support.
Technical advances led to automated pipetting devices (Micromedics; Hamilton), multichannel pipettes (Lab Systems), and microtiter plate readers and washers, and in the 1980s fully automated test instruments were manufactured by Boehringer-Mannheim and Abbott, among others.
Such automated systems have come to stay in medical laboratories. This book starts by introducing the ELISA history and the three different main forms of the assay, Direct, Indirect, and Sandwich ELISA.
It continues with a general overview of different ELISA methods using LPS, peptides as antigens and urine the sample for diagnosis (Section 1).
The next chapters focus on different forms of the ELISA assays, peptide ELISA (Section 2), microarrays, microfluidics CD-ELISA and live-cell ELISA (Section 3).
The next Sections are dedicated to the application of ELISA to the diagnosis of Malaria (Sections 4), other infectious diseases (Human papillomavirus, Dengue, Prions, Cystic Fibrosis, Leptospirosis, Herpes simplex related to HIV and Hepatitis C related to HIV (Section 5), different types of Cancer (Section 6) and Alzheimer's disease looking at biomarkers in sera and Cerebrospinal fluid (Section 7). This book is only a short overview of the big field that is the ELISA technique world.
With new methods being developed daily. New methods combining this method with RFLP, PCR, microarray, microfluidics, live-cell imaging, and so on.New Infectious diseases, neurologic diseases, cancer and auto immune diseases diagnostic methods based on ELISA techniques are being commercialized and made available daily.
Information
Format: Hardback
Pages: 275 pages
Publisher: Arcler Education Inc
Publication Date: 01/11/2017
Category: Immunology
ISBN: 9781773611761
Free Home Delivery
on all orders
Pick up orders
from local bookshops