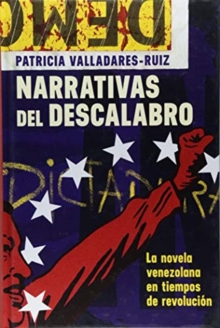 Narrativas del descalabro - La novela venezolana en tiempos de revolucion
Hardback
Description
La novela venezolana del siglo XXI se ha erigido como un observatorio creativo de la inmediatez politica.
Las intervenciones criticas que recoge este libro revelan un amplio abanico de corrientes tematicas y estrategias esteticas a traves de las cuales se articula el tratamiento ficcional de la crisis del proyecto revolucionario y su impacto social. A traves de la lectura de novelas publicadas entre 2002 y 2015, la autora examina como el conflicto politico ha permeado la actual narrativa venezolana para trazar los origenes y consecuencias de una contemporaneidad turbulenta.
Estos dispositivos creativos de resistencia desafian los discursos oficiales, al tiempo que denuncian los antecedentes y consecuencias de la fractura del orden institucional y contribuyen al balance historico de uno de los periodos mas convulsos de la nacion. Patricia Valladares-Ruiz es profesora asociada de literaturas latinoamericanas y caribenas en la Universidad de Cincinnati. This book explores the intersections of cultural policies, social changes, political conflict, and fiction writing in modern-day Venezuela.
The study as a whole consists of two interrelated sections.
The first section provides an analysis of the relationship between the discursive goals of the Bolivarian cultural policies and how authors work within and respond to them.
The second section introduces a series of case studies of a comprehensive corpus of novels published between 2002 and 2015.
Narrativas del descalabro closes a gap in current Venezuelan literary studies by offering a comprehensive inquiry into the literary representation of the convulsive social and political changes introduced by the Bolivarian Revolution. Patricia Valladares-Ruiz is Associate Professor of Latin American and Caribbean literatures at the University of Cincinnati.
Information
Format: Hardback
Pages: 208 pages
Publisher: Boydell & Brewer Ltd
Publication Date: 21/09/2018
ISBN: 9781855663312
Free Home Delivery
on all orders
Pick up orders
from local bookshops
Also by Patricia Valladares-Ruiz