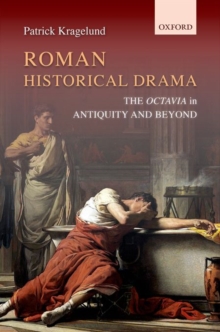 Roman Historical Drama : The Octavia In Antiquity and Beyond
Hardback
Description
The Octavia is the only surviving historical drama from ancient Rome.
With a plot rich in sex, dynastic intrigue, riots, and murder, the play's characters include the philosopher Seneca, the emperor Nero, the ghost of his murdered mother, his wife Octavia, and his mistress and empress-to-be Poppaea.
For centuries dismissed as a feeble, rhetorically overblown closet-drama written without consideration for the demands of plot or stage, the Octavia'sdynamic changes of time and setting, its startling interplay of the verbal and visual, and its integration of issues pervading the politics of the period in which it was written, reflect scenic conventions and a notion of the dramatic that radically transforms and expands our knowledge of ancient theatre and the Romanstage. Roman Historical Drama is the first comprehensive interpretation of ancient historical drama in relation to this exciting play, revealing how the Octavia mirrors the genre's traditions by mixing formats and stock characters from traditional tragedy with elements drawn from new developments of the Hellenistic and Roman stage.
The volume explores the role and impact of historical (and political) drama in Rome, offering a pioneering reading of the Octavia in relation toancient performance practice, as well as to the politics of those who in AD 68 brought down the tyrant Nero.
In its final section, the volume provides a panoramic survey of the revival and reinvention of classical tragedy in the Renaissance period, tracing the impact of the Octavia from Italy through France to ElizabethanEngland.
Information
Format: Hardback
Pages: 496 pages, 39 illustrations
Publisher: Oxford University Press
Publication Date: 03/12/2015
Category: Theatre studies
ISBN: 9780198718291
Free Home Delivery
on all orders
Pick up orders
from local bookshops