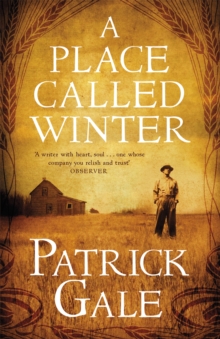 A Place Called Winter: Costa Shortlisted 2015
Hardback
Description
** Shortlisted for the Costa Novel Award 2015 **Picked for the BBC Radio 2 Simon Mayo Book Club To find yourself, sometimes you must lose everything.A privileged elder son, and stammeringly shy, Harry Cane has followed convention at every step.
Even the beginnings of an illicit, dangerous affair do little to shake the foundations of his muted existence - until the shock of discovery and the threat of arrest cost him everything.Forced to abandon his wife and child, Harry signs up for emigration to the newly colonised Canadian prairies.
Remote and unforgiving, his allotted homestead in a place called Winter is a world away from the golden suburbs of turn-of-the-century Edwardian England. And yet it is here, isolated in a seemingly harsh landscape, under the threat of war, madness and an evil man of undeniable magnetism that the fight for survival will reveal in Harry an inner strength and capacity for love beyond anything he has ever known before.In this exquisite journey of self-discovery, loosely based on a real life family mystery, Patrick Gale has created an epic, intimate human drama, both brutal and breathtaking.
It is a novel of secrets, sexuality and, ultimately, of great love.
Information
Format: Hardback
Pages: 352 pages
Publisher: Headline Publishing Group
Publication Date: 01/03/2015
Category: Historical fiction
ISBN: 9781472205292
Free Home Delivery
on all orders
Pick up orders
from local bookshops
Reviews
Showing 1 - 1 of 1 reviews.
Review by gypsysmom
10/11/2015
Those of us from a rural Canadian background have grown up with tales of the homesteaders who were enticed to the prairies with offers of free land. It is part of our heritage, our folklore. But when an Englishman who grew up on the Isle of Wight and then London and Winchester takes on that prairie life you have to wonder how accurately the stories will be told. I'm here to tell you that Patrick Gale has captured that place and time (with one small exception which I will get to later) wonderfully.Harry Cane (nicknamed Windy because his name sounds like hurricane) lived the life of a gentleman in England at the beginning of the twentieth century. He was never indolent but he also did not have to worry about money. Even when an investment his brother-in-law persuaded him to make went bad and he moved into his mother-in-law's home he still didn't have to work. But an introduction to a member of the chorus in a musical turned his comfortable life upside down. When his affair with this man was discovered he was made to leave England and his wife and child. He decided to go to Canada to homestead 160 acres in Saskatchewan although he was quite ignorant about farm work. A man he met on the boat, Troels Munck, persuaded him to go work for a year and a day for some relatives who lived near Moose Jaw. Although farmer Jorgenson was initially sceptical about Cane he grew to respect his abilities and work ethics. Munck comes back exactly a year and a day later and takes Harry off to North Battleford. He has learned of an Englishman who wants to abandon his homestead near Winter. It is a remote area but there are a brother and sister, Paul and Petra Slaymaker, who are homesteading nearby. Munck knew the Slaymakers back in Toronto but he is certainly not a friend of theirs. These four people are destined to impact each other far into the future.I especially enjoyed Gale's descriptions of the harvesting. I've seen threshing done by the big steam engines at museums and my parents told lots of stories about the threshing gangs. The amount of food consumed by the gang in this book is not an exaggeration. When you think how much work was involved in getting the crops sown and then harvested with just horses to provide the pulling power, it is a wonder farmers managed to farm 160 acres (a quarter-section). Hail to the pioneers!That one little discrepancy I mentioned was some muffins Petra made. Gale said they were made with chokecherries but chokecherries are very bitter and have big central pits. The name really is descriptive of what they are like. You can make wonderful jelly, great syrup and even drinkable wine with chokecherries but no-one would make muffins with them. I'm surprised that Marina Endicott,a great prairie writer, who Gale acknowledges as assisting him did not catch that. Other than that very minor slip this is a great book. I'll be looking for more of Patrick Gale's books.