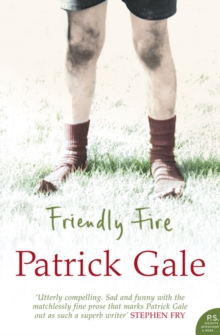 Description
From the author of Richard and Judy bestseller `Notes from an Exhibition' a tale of youthful disgrace, seen through the eyes of a fourteen-year-old girl. Sophie, an exceptionally bright child, has spent all her life in a children's home.
Her life is transformed when she wins a scholarship to Tatham's, a school for privileged high-achievers - but her education there is as much emotional as intellectual.
She falls hopelessly in love with Lucas, adored gay son of a wealthy Jewish family and, through him, is drawn into a tangle of betrayed friendship and forbidden passions that ends in tragedy and disgrace. Sophie's doggedly pursues prizes and praise but the painful lessons she learns about herself leave the most lasting impression.
Friendly Fire is an unforgettable novel about love, family and, that most English of concerns, class.
Information
Format: Paperback
Pages: 336 pages
Publisher: HarperCollins Publishers
Publication Date: 02/05/2006
ISBN: 9780007151042
Free Home Delivery
on all orders
Pick up orders
from local bookshops
Reviews
Showing 1 - 3 of 3 reviews.
Review by NeilDalley
16/06/2015
Gale wanted to re-tell some of his own experiences at school and deal with the complexities of being a gay adolescent. Instead of crafting the novel around this - which would have seemed too obvious - he cleverly looks at things from a new perspective. The main character is a teenage girl at a public school who befriends and falls in love with a fellow male pupil who is soon revealed as our gay character. He is, therefore, able to show both her experience and that of her gay friend. It is a wonderful read and the characters are very real. I felt an interest and concern for them and was quickly drawn into the story and passionately wanted the outcome to be positive for them.
Review by jayne_charles
16/06/2015
This is set in a boarding school full of ancient traditions and an intake of predominantly male students. You wouldn't need to know it was a Patrick Gale novel to suspect it might be a hotbed of homosexuality.Seen through the eyes of Sophie, one of the school's only female students, who got in on a scholarship having been brought up in care, it is skilfully written – it isn't all about homosexual encounters though that's the main thrust of it.Like all Patrick Gale's novels, it is full of interesting detail that keeps you wanting to read on even when nothing much is happening. It moves steadily towards its dramatic conclusion (which I didn't see coming), and whilst I found the last chapter a bit jarring, this was another great read from this consistently excellent author.
Review by LARA335
16/06/2015
Beautifully written story of Sophie, an orphan, and her school-friends, with the action taking place in the 1970's in a gritty care-home and a Hogwarts-like ancient boarding-school.Gale is amazing at showing the nuances of character and the interactions of his various characters. Everything is here: friendship, class, gender, the importance of money and its lack, the meaning of family, and the importance of books. Even Mallory Towers gets a mention. Engrossing, funny and sad, with a totally unexpected shocking scene, and peopled by characters I cared about and wanted to follow beyond school.