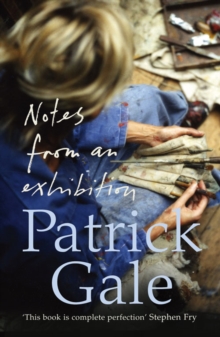 Notes from an Exhibition
Paperback
Description
From the author of A Perfectly Good Man, the bestselling story of an artist tormented by depression and the toll of creativity. When troubled artist Rachel Kelly dies she leaves behind an extraordinary body of work - but for her family there is a legacy of secrets and painful revelations. Rachel exerts a power that outlives her.
To her children she is both curse and blessing, as they cope with the inheritance of her passions - and demons.
Only their father's gift of stillness can withstand Rachel's destructive influence and the suspicion that they all came a poor second to her art. Piecing together the clues of her life - as artist, lover, mother, wife and patient - takes the reader from Cornwall to Canada across a span of forty years.
What emerges is a tender story of enduring love, and a portrait of a family coping with the sometimes too dazzling brilliance of a genius.
Information
Format: Paperback
Pages: 304 pages
Publisher: HarperCollins Publishers
Publication Date: 07/01/2008
ISBN: 9780007254668
Free Home Delivery
on all orders
Pick up orders
from local bookshops
Reviews
Showing 1 - 5 of 13 reviews.
Previous | Next
Review by thorold
16/06/2015
Patrick Gale is one of the British writers of my own generation (can't really say "young writers" any more!) that I admire most. He hops about quite a bit between styles and influences, but what he comes up with is usually interesting and rewarding, and he has a remarkable talent for dissecting family relationships.In this book he uses the conceit of an exhibition catalogue to reconstruct the life of his central character, the painter Rachel Kelly, through a series of incidents seen from different viewpoints and at different moments in her life. This structural technique can be frustrating for the reader, because it takes a long time for the bits to start slotting together, and because of the trauma of repeatedly losing touch with viewpoint characters with whom we thought we were establishing an intimate relationship. However, I think it is an effective technique, and it does reflect the way that we often learn about other people's lives in the "real world".Beyond the family relationships, the three big themes Gale throws into the mix are visual art, bipolar disorder, and Quakerism. The relationship between mental illness and creativity is a fairly hackneyed theme in fiction, of course, but this configuration of it was obviously an interesting challenge to Gale, who has previously written mostly about musical creativity (he's a musician himself) and Alzheimer's disease. As an ignoramus about painting, I felt that he did a pretty good job of conveying the experience of seeing and creating abstract paintings - certainly on a par with Joyce Cary's <i>The Horse's Mouth</i>, which he mentions as his favourite novel about a painter. It was nice to have Quakerism at the centre of a novel, rather than a few token Quaker characters at the periphery, but Gale is writing as an outsider attracted by the idea and impressed by the Quakers he's met: he doesn't really manage to convey what it might feel like to be on the inside, as a birthright member. His characters can't quite get over thinking of what Quakers do as a bit odd and what the outside world does as normal.Iris Murdoch is an obvious influence, as ever, and the chapters set in 1950s Toronto can't help having a touch of the Margaret Atwoods about them, but it's a nice sign of how Gale has become an established writer in his own right that we can amuse ourselves spotting joky little allusions to his earlier books, especially in the "catalogue notes" that introduce each chapter.
Review by LadyN
16/06/2015
I found this book utterly compelling.Patrick Gale writes wonderfully of complex charaters, without them being at all unbelievable. the dynamics of family life are beautifully captured, and I found myself researching aspects of the book, such as the Quaker faith, as I read. I loved the technique of each chapter opening with a description of a painting relevant to the chapter which followed.My one criticism is that I felt the last two chapters should have been the other way around for a more satisfactory end. Without wanting to spoil, I felt that the story would have come full circle had this been the case, rather than feeling a little "up in the air" .
Review by Pummzie
16/06/2015
Gorgeous read. I went to a random reading where Patrick Gale read out the first chapter (along with other bits and pieces). I had never heard of him or the book. It was being released the next day. I immediately went out and bought it and DEVOURED it. There are lots of elements of his fictitious family that aroused my interest at the time - the effect of living with bi-polar disorder, quakers, eccentric artist, estrangement of children who grow up around mental illness...lots of things that rang a few personal bells and lots to chew on but Gale does it all with a light touch and through a thoroughly fleshy cast of characters. The sort of book where not a lot happens but an awful lot happens with far more humanity than most authors are able to muster. One of those times where I couldn't stop reading but at the same time wanted to stop myself because I knew I would be sad to leave his world and its people behind. And goddammit, I really was gutted when I was done. I hope (and he hinted at his reading that maybe he wasn't quite done with all of these characters) there will be a follow up. In the meantime, I'll wait until I have forgotten it sufficiently to justify reading it again...
Review by Vigneau
16/06/2015
This is the first book I've read by Patrick Gale and I was impressed. The story centres around the life of a recently deceased artist Rachel Kelly who suffered from bipolar disorder. There is no plot as such. Instead the story of Rachel's life unravels through the eyes of family members. The author is in fact painting the artist's life as she herself would have created one of her paintings. The novel's strength lies in the characterisation. Gale describes his characters sympathetically and sensitively whilst also portraying their faults and weaknesses.
Review by bookmart
16/06/2015
I did enjoy this, a convincing portrait of the main caharcter.