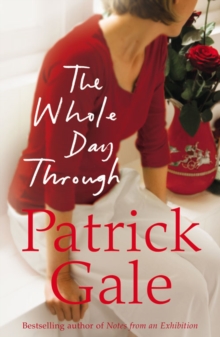 The Whole Day Through
Paperback
Description
A woman has a second chance at love in this novel from the author of Richard & Judy bestsellers `Notes from an Exhibition' and `A Perfectly Good Man'. When forty-something Laura Lewis is obliged to abandon a life of stylish independence in Paris to care for her elderly mother in Winchester, it seems all romantic opportunities have gone up in smoke.
Then she runs into Ben, the great love of her student days - and, as she only now dares admit, the emotional touchstone against which she has judged every man since.
She's cautious - and he's married - but they can't deny that feelings still exist between them. Are they brave enough to take the second chance at the lasting happiness that fate has offered them? Or will they be defeated by the need to do what seems to be the right thing? Taking its structure from the events of a single summer's day, The Whole Day Through is a bittersweet love story, shot through with an understanding of mortality, memory and the difficulty of being good.
In it, Patrick Gale writes with scrupulous candour about the tests of love: the regrets and the triumphs, and the melancholy of failing. The Whole Day Through is vintage Gale, displaying the same combination of wit, tenderness and acute psychological observation as his Richard & Judy bestseller Notes From an Exhibition.
Information
Format: Paperback
Pages: 288 pages
Publisher: HarperCollins Publishers
Publication Date: 28/05/2009
ISBN: 9780007306015
Other Formats
EPUB from £4.99
CD-Audio from £14.39
Free Home Delivery
on all orders
Pick up orders
from local bookshops
Reviews
Showing 1 - 5 of 7 reviews.
Previous | Next
Review by CarltonC
16/06/2015
A beautifully composed novella, which reads as a detached, nostalgic report on the meeting, after 20 years, of too ex-university lovers. It tells its story over the course of a summer's day, with flashbacks to explain the background, and feels restrained and formally composed. The characters are clearly drawn, with the Laura's mother, Dr Jellicoe, especially well defined.However, because of its detachment and short length, the story did not engage me and felt like an exquisitely written, but mannered exercise.
Review by kiwifortyniner
16/06/2015
This is the story of Laura who gives up her life in Paris to care for her aging mother, an academic. On her return she runs into Ben who was the love of her student days until he suddenly broke off their relationship and married someone else. They have a second chance at happiness as Ben's marriage is floundering but will they be able to take up the opportunity. The story is revolves around the events of a single day, with flashbacks as well to what has happened in the past and this makes it a little confusing at times. It is a short novel and the characters are quite well drawn. It shows two people wilingly caring, for an aging mother in Laura's case, and a disabled brother in Ben's. It paints a very detailed picture of what life is like for Laura's mother who still has an active mind but whose body will no longer let her do the thngs she once could. It was a good read, sensitively written, thought provoking at times.
Review by jayne_charles
16/06/2015
It just goes to show you can't judge a book by its cover. Looking at the front of this one, I would have probably thought....hmm, safe, middle-class, something the Women's Institute would approve of.....I certainly wouldn't have expected it to broach the subject of pubic lice over muesli and chopped banana (which of course it did).Gale's excellent 'Notes from an Exhibition' is one of my fave books of all time, and a hard act to follow - not surprisingly this fell a bit short. The idea of setting the story over a single day was interesting but I felt it crowded the narrative a bit, and it was sometimes hard to work out whether events described were happening in the past or the present. I didn't think the characters were as well drawn, either.On the other hand I thought the ending was handled really well, and the 'twist' was well thought out. I would stil go on to read all his others, he's such a good writer
Review by curlycurrie
16/06/2015
I found this to be an easy gentle read, even though it had some poignant threads running through it relating to loyalty, fidelity, regrets and memory. My favourite character was definitely Professor Jellicoe, who was mildly shocking in adhering to her naturism, even in old age, but who was a trailblazer for women in medical research. Exploring her decline in old was done sensitively but did so much so that it detracted from the gradual decline in her health. I found Laura, who was the main character, disappointing. She had a strong mother who (along with her common-law-husband) had clearly brought her up in a relaxed and unconventional setting, but Laura came across as shallow and almost wishy-washy.A gentle read with thought provoking moments and a twist at the end.
Review by thorold
16/06/2015
Patrick Gale is always worth reading, even on one of his off-days, and there's a lot of good stuff in the detail of this book. However, I didn't think the book as a whole was quite up to his usual standard. It feels rather too much like the usual formula, shaken up a little bit, but without the original twists that normally distinguish his books. We have had a whole string of novels from him that are based on an Affliction, a Middle-Class Eccentricity, and an Old Flame reappearing. If it isn't osteoporosis, it's schizophrenia or Alzheimer's; if it isn't naturism it's Quakerism, organic food or amateur music-making.From Gale's endnote it's clear that the central situation this time is taken in part from the experience of his own family (perhaps that's why he's started calling his fictional version of Winchester "Winchester" rather than "Barrowcester"), so it's maybe a bit unfair to criticise him for this, but unfortunately he's queered his own pitch with his past work. The structure of the novel, fitting events from an extended period metaphorically into the course of a single day, is quite neat, but not enough to make it really exciting. A nice comfort read, pressing a lot of the right buttons for liberal-minded modern readers, but no real challenge.