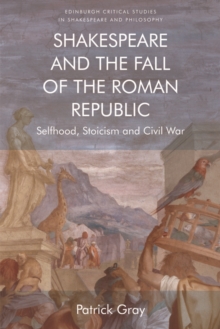 Shakespeare and the Fall of the Roman Republic : Selfhood, Stoicism and Civil War
Hardback
Description
Shakespeare and the Fall of the Roman Republic introduces Shakespeare as a historian of ancient Rome alongside figures such as Sallust, Cicero, St Augustine, Machiavelli, Gibbon, Hegel and Nietzsche.
In Julius Caesar and Antony and Cleopatra, Shakespeare shows Rome's transition from Republic to Empire.
Why did Rome degenerate into an autocracy? Alternating between ruthless competition, Stoicism, Epicureanism and self-indulgent fantasies, Rome as Shakespeare sees it is inevitably bound for civil war.
Shakespeare and the Fall of the Roman Republic considers Shakespeare's place in the history of concepts of selfhood and reflects on his sympathy for Christianity, in light of his reception of medieval Biblical drama, as well as his allusions to the New Testament.
Shakespeare's critique of Romanitas anticipates concerns about secularisation, individualism and liberalism shared by philosophers such as Hannah Arendt, Alasdair MacIntyre, Charles Taylor, Michael Sandel and Patrick Deneen.
Information
Format: Hardback
Pages: 408 pages
Publisher: Edinburgh University Press
Publication Date: 30/11/2018
Category: Literary theory
ISBN: 9781474427456
Also in the Edinburgh Critical Studies in Shakespeare and Philosophy series | View all