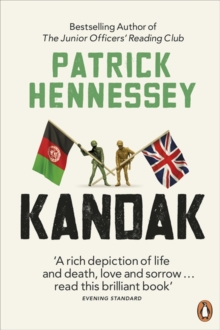 Kandak : Fighting with Afghans
Paperback
Description
KANDAK, from Patrick Hennessey, author of the TV Book Club pick, The Junior Officers' Reading Club, is 'a rich depiction of life and death, love and sorrow ...read this brilliant book' Evening Standard When Patrick Hennessey returned home from Afghanistan, he left behind him the surreal intensity and exhilaration of battle.
He also left behind lasting bonds of friendship formed with his Afghan comrades Qiam, Syed and Majhib.
Kandak is the story of how, in the heat of the moment between living and dying, unlikely alliances can be forged.
Patrick Hennessey tells of their awkward first meetings, mutual suspicion and incomprehension, and how this eventually turned into brotherhood. 'A passionate tribute to the Afghan soldiers he fought alongside in Helmand ...excellent' Sunday Times 'This beautifully-written sequel to his first book tells us much about the bonds forged by combat in the dust and heat and danger, when there was no "them and us"' Mail on Sunday 'His prose is lean and muscular, characterised by dry wit and acute intelligence.
He also has a novelist's eye for the vivid image and the telling detail' Daily Mail 'An erudite account ...this topical book, beautifully written, gives important insights at a crucial time in Afghanistan's transition' Daily Telegraph Patrick Hennessey was born in 1982 and educated at Berkhamsted School and Balliol College, Oxford, where he read English. He joined the Army and served from 2004 to 2009 as an officer in The Grenadier Guards.
In between guarding towers, castles and palaces he worked in the Balkans, Africa, South East Asia, the Falkland Islands and deployed on operational tours of Iraq and Afghanistan.
On leaving the Army he wrote his first book The Junior Officers' Reading Club.
He is now a barrister.
Information
Format: Paperback
Pages: 400 pages, Illustrations
Publisher: Penguin Books Ltd
Publication Date: 27/06/2013
Category: Memoirs
ISBN: 9780241951279
Free Home Delivery
on all orders
Pick up orders
from local bookshops
Reviews
Showing 1 - 1 of 1 reviews.
Review by Eyejaybee
16/06/2015
I hadn't particularly wanted to read this book - a colleague had bought it and kept offering it to me along with his glowing recommendation. Eventually, just to be polite, I accepted it but had no intention of reading it, and planned simply to keep it for a few days and then hand it back saying that i simply wouldn't have the time to get around to it. However, as luck would have it, a couple of days later I left for work in a great hurry, forgetting that i had almost finished the book I was reading, and that there would certainly not be enough of it left to tide me over both commuting journeys that day. Monsoon-like rain was falling when I came to leave the office, dissuading me from my normal casual saunter to the local bookshop so I had to resort to this book, hitherto unregarded in a corner of my desk. Well, how fortunate was I? This is an enthralling book, and I am very glad that I came to read it, however fortuitous that outcome might have been.It is, basically, a series of reminiscences from Hennessey who served in the Grenadier Guards and completed various tours of service in Afghanistan, and recounted some of his experiences in his previous book, "The Junior Officers' Reading Club". This book focuses particularly on his role as a mentor to the Afghan National Army which is increasingly taking over the responsibility for maintaining the peace as the British and American forces withdraw. There are the predictable contrasts when the ex-Sandhurst Hennessey finds himself grappling with liaison with a ragged, ill-equipped and frequently ill-disciplined bands of Afghan "warriors" (rather than mere soldiers). However, Hennessey soon came to cherish his role and his respect, and indeed affection, for his Afghan charges soon shines through.Hennessey writes lucidly and has a great facility for stirring the reader's empathy. His accounts of the various Afghan troops with whom he worked , and with whom he shared a number of hair-raising are insightful and never patronising, and his descriptions of the Afghan terrain or the terrors to be faced down during night patrols have a forceful immediacy.