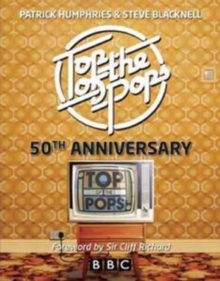 Top of the Pops : 50th Anniversary
Hardback
Description
'It's Number One - it's Top of the Pops'. It's not just the story of a long-running television programme.
The story of Top of the Pops is the story of British popular music.
It is a shadow history of British rock & roll, and beyond.
It is the story of 'Auntie' BBC getting down with the kids.
It is the story of how a 6-week show turned into a pan-global phenomenon and how for 40 years, Top of the Pops was a British institution. 'It's Number One - it's Top Of The Pops' for every generation from 1964, until the show ended in 2006, that was the sentence every young television viewer sat down to hear.
At its peak, a quarter of the UK's entire population was watching.
Top Of The Pops was the pivotal pop television programme over its 2,000 weekly episodes, the programme gave peak airtime to every act, from The Beatles to Beyonce - from Cream to Coldplay - from Pink Floyd to Pink!
From its humble beginnings in 1964 from a disused church through to the programme's pan-global appeal in the 1990s, Top Of The Pops has become synonymous with the best in pop television. With a span of nearly half a century, there are so many highlights: The Beatles only live appearance, in 1966, promoting 'Paperback Writer' - the Who getting banned - the first colour edition in 1969 - David Bowie's breakthrough performance of 'Starman' in 1972 - Nirvana's chaotic 1991 appearance promoting 'Smells Like Teen Spirit' - the Blur versus Oasis battle - Justin Timberlake playing bass with the Flaming Lips in 2003 - Top Of The Pops II was launched in 1994, bringing the programme to a whole new audience.
Around the same time, the BBC licensed the "Top Of The Pops" brand to over 90 countries, with estimated audience of 100 million.
Though it ceased broadcasting in 2006, thanks to the internet, compilation CDs; repeated viewing on BBC4 - Top Of The Pops lives on.
This is the first book to tell that incredible story.
Information
Format: Hardback
Pages: 260 pages
Publisher: McNidder & Grace
Publication Date: 01/11/2013
Category: Television
ISBN: 9780857160522
Also by Patrick Humphries