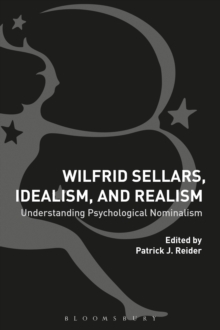 Wilfrid Sellars, Idealism, and Realism : Understanding Psychological Nominalism
Hardback
Description
Wilfrid Sellars, Idealism, and Realism is the first study of its kind to address a range of realist and idealist views inspired by psychological nominalism.
Bringing together premier analytic realists and distinguished defenders of German idealism, it reveals why psychological nominalism is one of the most important theories of the mind to come out the 20th century. The theory, first put forward by Wilfrid Sellars, argues that language is the only means by which humans can learn the types of socially shared practices that permit rationality.
Although wedded to important aspects of German idealism, Sellars' theory is couched in bold realist terms of the analytic tradition.
Those who are sympathetic to German idealism find this realist's appropriation of German idealism problematic.
Wilfrid Sellars, Idealism and Realism thus creates a rare venue for realists and idealists to debate the epistemic outcome of the mental processes they both claim are essential to experience.
Their resulting discussion bridges the gap between analytic and continental philosophy.
In providing original and accessible chapters on psychological nominalism, this volume raises themes that intersect with numerous disciplines: the philosophy of mind, philosophy of language, epistemology, and metaphysics.
It also provides clarity on arguably the best available account of why humans can reason, be self-aware, know, and act as agents.
Information
Format: Hardback
Pages: 208 pages
Publisher: Bloomsbury Publishing PLC
Publication Date: 17/11/2016
ISBN: 9781474238939
Free Home Delivery
on all orders
Pick up orders
from local bookshops