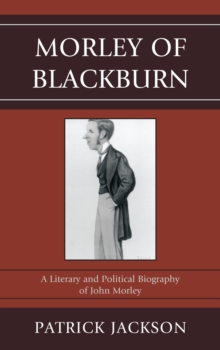 Morley of Blackburn : A Literary and Political Biography of John Morley
Hardback
Description
This biography covers both the literary and political career of John Morley, later Lord Morley of Blackburn (1838-1923).
As a writer, Morley made his reputation as the radical editor of The Fortnightly Review from 1867 to 1882.
This was an influential periodical for which Morley commissioned articles by writers such as Leslie Stephen and Frederic Harrison, and for which Morley wrote many articles himself.
As a politician, Morley worked very closely with William Ewart Gladstone, particularly in the two attempts to introduce legislation providing for Irish home rule, with a Dublin parliament.
Finally, at the end of his political career, Morley served as secretary of state for India (1905-1910) in the great Liberal government of Campbell-Bannerman and Asquith.
Working with the viceroy Lord Minto, Morley was responsible for the first tentative steps toward a democratic government in India.
Morley was strongly opposed to militarism: he had stood out against the war with the Boers in South Africa and he resigned from office in 1915 in protest against the declaration of war on Germany.
This biography utilizes extensive primary archival material, including Morley's own diaries and letters, which have only recently become available.
Information
Format: Hardback
Pages: 584 pages, 8 Illustrations, black and white
Publisher: Fairleigh Dickinson University Press
Publication Date: 18/05/2012
ISBN: 9781611475340
Free Home Delivery
on all orders
Pick up orders
from local bookshops