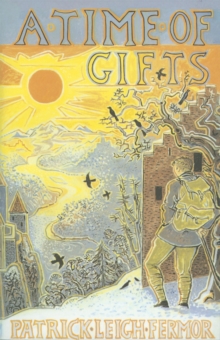 A Time of Gifts : On Foot to Constantinople: from the Hook of Holland to the Middle Danube
Paperback
Description
In 1933, at the age of 18, Patrick Leigh Fermor set out on an extraordinary journey by foot - from the Hook of Holland to Constantinople.
A Time of Gifts is the first volume in a trilogy recounting the trip, and takes the reader with him as far as Hungary.It is a book of compelling glimpses - not only of the events which were curdling Europe at that time, but also of its resplendent domes and monasteries, its great rivers, the sun on the Bavarian snow, the storks and frogs, the hospitable burgomasters who welcomed him, and that world's grandeurs and courtesies.
His powers of recollection have astonishing sweep and verve, and the scope is majestic.
Information
Format: Paperback
Pages: 384 pages, frontispiece and map
Publisher: Hodder & Stoughton General Division
Publication Date: 15/03/2004
Category: Travel writing
ISBN: 9780719566950
Free Home Delivery
on all orders
Pick up orders
from local bookshops
Reviews
Showing 1 - 5 of 6 reviews.
Previous | Next
Review by thorold
16/06/2015
This first part of Patrick Leigh Fermor's journey to Constantinople takes him up the Rhine and down the Danube as far as Esztergom, on the border between Hungary and Slovakia. As others have said, a lot of the charm in these books comes from the way Fermor manages to recapture the youth and innocence of those days, while writing more than forty years later. It's difficult to make out how much is memory and how much he has reconstructed from later knowledge — he makes it clear that he lost the diary covering his journey as far as Munich. But, authentic or not, his impressions have a lot in them that makes me remember how I saw the world when I was eighteen and travelling independently for the first time.Of course, there's an extra charm in the knowledge that the Europe he describes was about to change for good. Although he freely admits that he knew little and cared less about politics, he could not avoid noticing that Hitler had just come to power in Germany, and that there was fighting in the streets of Vienna when he arrived there. In a way, his naivety makes his few observations of the political scene more interesting (for instance, the scene where a young man proudly shows off his bedroom full of Nazi posters and emblems, then disarmingly tells him "You should have seen it six months ago, when I was a Communist!"), but this is clearly an aspect of the book that has been heavily filtered through his subsequent knowledge and experience. Most of the book is written in a charmingly clear and elegant style, but there are occasional passages where he allows himself to get carried away, mostly when writing about the way his ideas on history and painting evolved during the trip, and it all becomes a bit Bridesheadish. Still, it's clearly a classic piece of travel writing, and I don't know why it's taken me so long to discover it...
Review by blackwatertown
16/06/2015
1. Read the book.2. Set off into the unknown having been inspired by Patrick Leigh Fermor's erudition, open mind and steady pace. Accept the kindness of strangers. Open your eyes to the history being made around you now, as he did then. Later on you'll be able to say that, yes, you really were there, and that you were paying attention.3. Read this book again. It's light enough to carry on your journey, and is one of the very best I have ever read myself.
Review by simondavies
16/06/2015
His words are poetic, and he can paint a picture with four or five words - that would take other authors paragraphs, or chapters to achieve. You might need a dictionary - both English and Latin, while reading it.
Review by nakmeister
16/06/2015
A Time of Gifts is a travel book by travel writer Patrick Leigh Fermor. Published in 1977, it is actually based on travels in 1933-34. When the author was just 18 in 1933, he decided to walk from Rotterdam to Constantinople (now Istanbul), a journey of more than a thousand miles. This book, the first in what was intended to be a trilogy, covers his journey as far as Hungary. It is based partly on recollections, and partly on a notebook which he rediscovered many decades later in a castle somewhere on his route!The book is not overly thick, weighing in at almost exactly 300 pages, but the type is small and a lot of words are packed onto each page so it isn't a particularly quick read. Leigh Fermor is a master of the English language, and the book has many lengthy and beautiful descriptions in. It is at its heart a travel book, but covers quite a bit of history as well as art, literature and various other topics.The book is regarded by many as one of the finest travel books written in the English language, Leigh Fermor is a highly regarded writer and this is considered his masterpiece. So what is it actually like to read?The book starts off with a lengthy letter to a former colleague from WW2, which serves as the book's introduction. I skipped past this at first, eager to get started with the book, but came back to it when I was part way through and found it full of useful backplot and biographical detail. I found the book overall a joy to read, it gives a wonderful view of pre-second world war Europe, painting a picture of a world long gone. Much of the book is beautifully written. The author does use a lot of long words and bits of German and other languages (mostly though not always with translations), as well as references to literature and art which I wasn't familiar with. My advice is just enjoy the book, and don't get bogged down in the sections where he is discussing a (now obscure) old literary text, or an old historical-political situation which has long since evapourated. Just enjoy the book for what it is, a wonderful travelogue.I wouldn't recommend this book to everyone, as it is not an easy read and written in an old fashioned style (i.e. nothing like Bill Bryson). But I loved it. I can't wait to read more books by Patrick Leigh Fermor, and it has got me into travel books generally too.
Review by Figgles
16/06/2015
Part travelogue part history lesson this undefinable book takes you through Europe, on foot, with the young Patrick Leigh Fermor, whilst the older Fermor brings a lifetime of knowledge and experience to the tale. I'm rereading these books preparatory to reading the final, posthumously published, book. They have lost none of their charm.