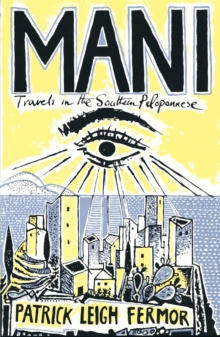 Mani : Travels in the Southern Peloponnese
Paperback
Description
This is Patrick Leigh Fermor's spellbinding part-travelogue, part inspired evocation of a part of Greece's past.
Joining him in the Mani, one of Europe's wildest and most isolated regions, cut off from the rest of Greece by the towering Taygettus mountain range and hemmed in by the Aegean and Ionian seas, we discover a rocky central prong of the Peleponnese at the southernmost point in Europe. Bad communications only heightening the remoteness, this Greece - south of ancient Sparta - is one that maintains perhaps a stronger relationship with the ancient past than with the present.
Myth becomes history, and vice versa. Leigh Fermor's hallmark descriptive writing and capture of unexpected detail have made this book, first published in 1958, a classic - together with its Northern Greece counterpart, Roumeli.
Information
Format: Paperback
Pages: 336 pages, frontispiece and map
Publisher: Hodder & Stoughton General Division
Publication Date: 19/07/2004
Category: Travel writing
ISBN: 9780719566912
Free Home Delivery
on all orders
Pick up orders
from local bookshops
Reviews
Showing 1 - 2 of 2 reviews.
Review by thorold
16/06/2015
This is an odd sort of book - the experience is rather as one would imagine an evening with the author, sitting in a harbourside taverna where dinner doesn't end until about 2 a.m. To start with, it's a fairly straightforward account of a journey to a remote and exotic part of Greece ("Here we are crossing the pass with the donkeys, ... these are a couple of young goatherds we met on top of the mountain..."), then we move into historical background about the Maniots' refusal to submit to the Turks, and their habit of inter-clan warfare; we speculate about the difficulty of supporting oneself in this harsh and infertile region, bring in a few memories of wartime experiences in Crete, and then, as the level of the wine gets lower, switch over to a rather pedantic lecture on popular superstition and the history of the Greek Church, with special reference to the different schools of icon painting (all a bit hard to follow if you don't happen to have any pictures to look at). Fortunately the next bottle arrives, things mellow a little bit, and we move on to more entertaining speculations about the role of the ship's cat in Greek society, but, as the author admits, we've rather lost track of the Mani by then.The reason for the curious structure of the book seems to be that Leigh Fermor originally intended to write a single travel book on Greece in general, but found that he had far too much material. Thus the nominal subject was restricted to the Mani (for those, like myself, who need to check: it's the middle one of the three peninsulas sticking out from the south coast of the Peloponnese). However, there was room for a few general chapters, so he bunged them in anyway as "digressions". As he tells us in the introduction, there should also have been a chapter on Greek vampires, but that couldn't be squeezed in...Structure apart, what shines through the whole of this book is the author's great, and comprehensive, love of Greece. He is not one of those British Hellenophiles who consider Greek history as extending from the Trojan to the Peloponnesian War, with a little bonus chapter in the 1820s. For him all of Greek history and culture is fascinating, and he's a mine of information on regional customs and dialects, dress, fortifications, eighteenth century poetry, obscure Byzantine and Ottoman governors, saints, pirates, guerillas, and much else. Although he's clearly glad that the radio and motor traffic hadn't reached the Mani when he was there in the 1950s, this isn't a diatribe against the modern age. He's simply taking pleasure in what he finds, and in looking at it against the background of what he knows about the past. I imagine the Mani has changed a lot in the last fifty years, and I wouldn't expect this to be a very useful book to take on an actual journey. However, provided you don't have to get up early the next day, it could a very entertaining and satisfying read for the armchair traveller.
Review by comixminx
16/06/2015
Though in places over-literary, generally this is a great, readable, very interesting book about a part of the world that is little-known. While travelling in the Mani I had to read this, of course, but it is longer-lasting than that might indicate.