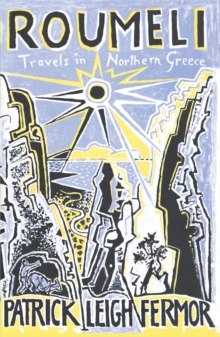 Description
Patrick Leigh Fermor's Mani compellingly revealed a hidden world of Southern Greece and its past.
Its northern counterpart takes the reader among Sarakatsan shepherds, the monasteries of Meteora and the villages of Krakora, among itinerant pedlars and beggars, and even tracks down at Missolonghi a pair of Byron's slippers.Roumeli is not on modern maps: it is the ancient name for the lands from the Bosphorus to the Adriatic and from Macedonia to the Gulf of Corinth.
But it is the perfect, evocative name for the Greece that Fermor captures in writing that carries throughout his trademark vividness of description.
But what is more, the pictures of people, traditions and landscapes that he creates on the page are imbued with an intimate understanding of Greece and its history.
Information
Format: Paperback
Pages: 256 pages, frontispiece and map
Publisher: Hodder & Stoughton General Division
Publication Date: 19/07/2004
Category: Travel writing
ISBN: 9780719566929
Free Home Delivery
on all orders
Pick up orders
from local bookshops
Reviews
Showing 1 - 1 of 1 reviews.
Review by thorold
16/06/2015
The concept of "Northern Greece" is elastic enough to stretch from Crete to Honduras in this second set of virtuoso, quasi-random ramblings about Greece and the Greeks from PLF. As we might expect, he draws on his vast and diverse store of knowledge of two and a half millennia of Greek history and culture to wander off into strange and wonderful digressions, either fascinating or tedious according to how mellow you are when you read them. I loved the involved and rather pointless tale of Byron's slippers, and had fun with the Greek version of thieves' cant. I found his tendentious speculations on "Roumioi vs. Hellenes" a bit much (although I did catch myself trying to fit some of my Greek acquaintances into his categories...). The best bit was definitely the section on mountain monasteries, though. I almost got as far as looking them up on the map, but I suspect that this is the sort of travel best done from an armchair. Real life with its buses and car parks and admission charges would spoil the whole thing.