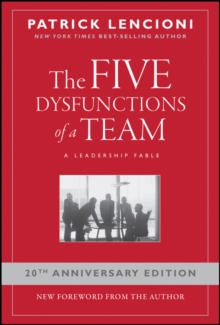 The Five Dysfunctions of a Team : A Leadership Fable
Hardback
Description
In The Five Dysfunctions of a Team Patrick Lencioni once again offers a leadership fable that is as enthralling and instructive as his first two best-selling books, The Five Temptations of a CEO and The Four Obsessions of an Extraordinary Executive.
This time, he turns his keen intellect and storytelling power to the fascinating, complex world of teams. Kathryn Petersen, Decision Tech's CEO, faces the ultimate leadership crisis: Uniting a team in such disarray that it threatens to bring down the entire company.
Will she succeed? Will she be fired? Will the company fail? Lencioni's utterly gripping tale serves as a timeless reminder that leadership requires as much courage as it does insight. Throughout the story, Lencioni reveals the five dysfunctions which go to the very heart of why teams even the best ones-often struggle.
He outlines a powerful model and actionable steps that can be used to overcome these common hurdles and build a cohesive, effective team.
Just as with his other books, Lencioni has written a compelling fable with a powerful yet deceptively simple message for all those who strive to be exceptional team leaders.
Other Formats
Paperback from £11.19
EPUB from £13.25
PDF from £13.25
Free Home Delivery
on all orders
Pick up orders
from local bookshops
Reviews
Showing 1 - 5 of 15 reviews.
Previous | Next
Review by duckieyazi
16/06/2015
This book talks about team-building in a story-telling way and so it effectively illustrates the key concepts in team building. And it emphasize even more the importance of a good leader in building a team. If the leader does not view building a team as important, the team will never get formed. In this fable, the leader believes that with a good team built, results will follow. Hence, she was willing to let go of good but problematic staff that will affect team development and morale. If only all bosses can see the importance of team work and understand that it takes more than just some visionary words typed on a nice piece of paper..
Review by amramey
16/06/2015
Patrick Lencioni. The Five Dysfunctions of a Team. San Francisco, CA: Jossey-Bass, 2002. 224 pp. $24.95.Typically a fable refers to anthropomorphized animals (e.g., Mickey Mouse and Bugs Bunny), not the classically generic idea of a mere fictional story. Patrick Lencioni writes a short story that illustrates what five dysfunctions look like at DecisionTech, a fictional company near the San Francisco Bay. A fifty-seven-year-old woman named Kathryn is hired as the new CEO of a 150-employee software company. She is now the lead executive of a highly dsyfunctional staff. The story allows the reader to be the proverbial fly on the wall in their numerous meetings. Dialogue dominates the unfolding plot. The book ends with 35 pages overviewing the model.The narrative style is not your typical leadership genre of choice. The genre and small page size make for a quick read.
Review by bsanner
16/06/2015
In this engaging, insightful, and deceptively simple read, Lencioni blends a "leadership fable" (the fictitious account of DecisionTech's executive board) with a number of invaluable leadership principles. Specifically, Lencioni outlines five team dysfunctions that have the potential to render a team ineffective: (1) absence of trust, (2) fear of conflict, (3) lack of commitment, (4) avoidance of accountability, and (5) inattention to results. While far from exhaustive, Lencioni provides a thoughtful and penetrating snapshot on the importance and principles of team leadership. A
Review by atomheart
16/06/2015
I've been in corporate America for just under 4 years now. In my time, I've never really bought into the majority of management strategies I've seen because well, they blatantly do not work; and if they do, its at an absurd cost of employee retention, dissatisfaction and needless overwork. Passive aggressiveness, no accountability, scared of conflict... I see it too often, and I'm constantly frustrated by it. And just when I thought I was alone, I read this book and was completely blown away. Everything I've felt, is here, written down in this book. Its quite extraordinary. I feel a bit like Jerry Mcguire did after writing his 'Mission Statement.' I want to buy copies of this book and put it in the mailboxes of management across corporate America. Unfortunately, one thing I've learned in life is you can't force people to change, they have to be willing and accepting to move forward on there own... or be forced by a higher hand. I can't force others who don't see it themselves, and as the low man on the totem pole, its a hard to play the upper hand. But dammit, at least I'll go down swinging, knowing I'm not alone.
Review by LynnB
16/06/2015
The main message of this book is that leaders need to focus on their teams. Effective teams will succeed, while dysfunctional teams will fail, or at least not live up to their potential, even if they have superior products or marketing.Most of the book is written as a "leadership fable" -- a story about a CEO and her team's struggles as she takes them through a team building process designed to buld trust, engage in healthy conflict, commit to common goals, hold each other accountable and remain focused on results. In the last part of the book, the model is explained and suggestions are provided for leaders who want to work on one or more of the dysfunctions.The model and the ideas presented are simple, which the author admits. The challenge comes in walking the talk on a continuous basis. The book is easy to read and has practical ideas that can be implemented in the real world.
Also in the J-B Lencioni Series series | View all