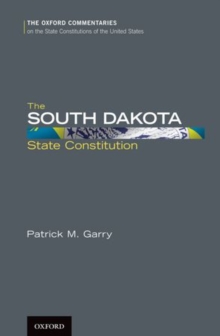 The South Dakota State Constitution
Hardback
Description
South Dakota was the first state in the nation's history to adopt the Initiative and Referendum, making it permissible for the people to initiate a constitutional amendment, on a statewide level in 1898.
While it continues to be a controversial procedure, Patrick Garry discusses this in-depth while providing the only definitive reference resource on the South Dakota Constitution, including all significant court decisions interpreting each Section. The South Dakota Constitution features the rich history and development of constitutionalism in the state.
It provides the complete text of the state's current constitution, with each section accompanied by commentary that explains the provision and traces its origins and its interpretation by the courts and by other governmental bodies.
Offering in-depth, section-by-section analysis of the entire constitution, it shows the many significant changes within the state of South Dakota thathave been made since the constitution's initial drafting.
The book concludes with a bibliography, a table of cases cited in the volume, and a topical index making this volume a highly detailed historical companion for students, scholars, practitioners, and all readers interested in state constitutionalissues and the history of South Dakota's statehood. The Oxford Commentaries on the State Constitutions of the United States is an important series that reflects a renewed international interest in constitutional history and provides expert insight into each of the 50 state constitutions.
Each volume in this innovative series contains a historical overview of the state's constitutional development, a section-by-section analysis of its current constitution, and a comprehensive guide to further research. Under the expert editorship of Professor G. Alan Tarr, Director of the Center on State Constitutional Studies at Rutgers University, this series provides essential reference tools for understanding state constitutional law.
Books in the series can be purchased individually or as part of a complete set, giving readers unmatched access to these important political documents.
Free Home Delivery
on all orders
Pick up orders
from local bookshops
Also in the Oxford Commentaries on the State Constitutions of the United States series | View all