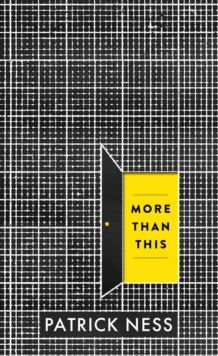 Description
From two-time Carnegie Medal winner Patrick Ness comes an enthralling and provocative new novel chronicling the life - or perhaps afterlife - of a teen trapped in a crumbling, abandoned world.A boy called Seth drowns, desperate and alone in his final moments, losing his life as the pounding sea claims him.
But then he wakes. He is naked, thirsty, starving. But alive. How is that possible? He remembers dying, his bones breaking, his skull dashed upon the rocks.
So how is he is here? And where is this place? It looks like the suburban English town where he lived as a child, before an unthinkable tragedy happened and his family moved to America.
But the neighbourhood around his old house is overgrown, covered in dust and completely abandoned.
What's going on? And why is it that whenever he closes his eyes, he falls prey to vivid, agonizing memories that seem more real than the world around him?
Seth begins a search for answers, hoping that he might not be alone, that this might not be the hell he fears it to be, that there might be more than just this...
Information
Format: Hardback
Pages: 480 pages
Publisher: Walker Books Ltd
Publication Date: 05/09/2013
Category: General
ISBN: 9781406331158
Other Formats
Paperback from £6.89
eAudiobook MP3 from £8.99
Free Home Delivery
on all orders
Pick up orders
from local bookshops
Reviews
Showing 1 - 2 of 2 reviews.
Review by SandDune
16/06/2015
'Here is the boy, drowning' begins the new novel by Patrick Ness, and the boy who is to be the hero of the novel does indeed drown. Or perhaps it would be more correct to say he is killed instead by the massive injuries he recieves as the waves smash him into the rocks just as he is about to drown anyway. Either way by the end of the first chapter he is well and truly dead. So it's surprising to find that by the middle of the second chapter the boy (Seth) wakes up to find himself lying on a concrete path leading to the front door of a house. And seemingly not dead at all, which he is as surprised about as the reader. And he is not in the coastal Californian town where he has spent his teenage years, he is in a street that is clearly English, and outside the house that he has not seen since he was eight years old when his parents emigrated. But it's not a happy homecoming: there are clearly memories buried in that house which are best left undisturbed, something to do with his brother which he can't remember clearly. And the England in which he finds himself is very different to the one he remembers: empty of people and clearly abandoned, and with everything just left. Even the climate has changed. So is this his own personal hell or something else entirely?This was an enjoyable an thought provoking read: one of those where you're never entirely sure if you know what is going on. There was one point where I thought 'Oh no, it's (insert name of well known film) all over again, but it didn't turn out quite like that. So recommended.
Review by LaurenKathryn
16/06/2015
I really did love how this book makes you question, pretty much, everything. You fly through it and then it completely turns the tables on you, asking you, does any of it actually matter?<br/><br/>Absolutely loved the concept.<br/><br/>Seriously, where does Ness get his creative genius from? I want whatever he's having.