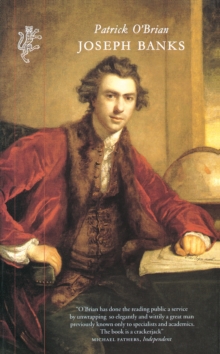 Description
Sir Joseph Banks, botanist, explorer, President of the Royal Society and one of Australia's founding fathers, was among the most influential figures of the eighteenth and nineteenth centuries.
As a young man he accompanied Captain Cook on his voyage of discovery to Australia, in later years he was instrumental in establishing Kew Gardens as the greatest botanical centre in the world and he knew just about everybody who mattered in the scientific circles of the time. Patrick O'Brian's masterly biography draws on much hitherto unpublished material.
Far from being the colossus of science traditionally imagined, Joseph Banks emerges here as a warm-hearted enthusiast whose legacy survives not only in the record of his botanizing in the South Seas but in the development of the Australian continent and in the tenor and tradition of subsequent scientific inquiry.
Information
Format: Paperback
Pages: 336 pages
Publisher: Vintage Publishing
Publication Date: 28/11/1997
Category: Biography: general
ISBN: 9781860464065
Free Home Delivery
on all orders
Pick up orders
from local bookshops
Reviews
Showing 1 - 1 of 1 reviews.
Review by Bowerbirds-Library
16/06/2015
Patrick O'Brien has a certain idiosyncratic manner in writing his biography of Joseph Banks and the book is all the more enjoyable and reading for this. The early years of Bank's life (travels with Cook etc) are discussed using large chunks of Bank's own letters and journals, these take a little time to get used too as Bank's personal style is also very idiosyncratic. O'Brien obviously really likes his subject matter and by the time you finish the book you almost certainly feel the same way. By his early thirties Bank's has finished his travels and O'Brien compares him to a barnacle, whose juvenile life is spent as an active and free swimming creature only to 'find a convenient place, settle there, change shape, and never move again. Much the same appeared to be happening to Banks'(p.191).It is a fascinating account of an incredible man, some parts of it are very moving. For example the last letter from Charles Clarke as he lay dying to his friend Joseph Banks and wishing him 'many happy years in this world'(p.203) was particularly poignant and O'Brien must have felt the same way since he included it in full in the book. Also the death of his friend Solander, which Bank's described as 'not possible for my heart to replace the impression which twenty years ago it took as easily as wax and which now will not be effaced until the heart itself dies' (p.206)O'Brien's affection for his subject is finally evident in the end section of the book, where he cannot bear to leave Banks on his deathbed and the reading of his will but must end the story with examples of key letters that display the vigour of the living man.I thoroughly enjoyed reading this book and it has left me with the desire to know even more about the live and work of Joseph Banks. This must surely be a good endorsement of an excellent biography.