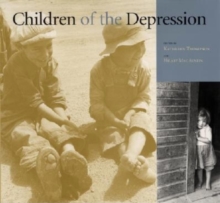 Children of the Depression
Hardback
Description
During the Depression, Roy Emerson Stryker, head of the Farm Security Administration Historical Section, hired some of the best photographers in the United States-including Dorothea Lange, Gordon Parks, Walker Evans, Ben Shahn, Marion Post Walcott, John Delano, John Vachon, and Arthur Rothstein-to record the state of the country during its direst days.
While Stryker made many demands on his photographers, he also gave them a great deal of freedom.
Asking for sociology, he received great art. It is that combination which makes the FSA collection so special. A goal of the FSA photographers was to inspire the country to care about the people the New Deal programs were trying to help.
With regard to children, they were masterful. The photographs show us the young of every ethnicity living in conditions we associate today with Third World countries.
Behind virtually every shot taken of a child by these remarkable chroniclers is the dream of a world in which childhood is a time of play, happiness, and safety.
The reality, shown in the photographs assembled in Children of the Depression, reveals the betrayal of that dream.
But the pictures also are a testament to resilience and hope. Editors Kathleen Thompson and Hilary Mac Austin have chosen images that represent different regions and ethnic backgrounds.
Some pictures may challenge preconceptions about the Depression era; others will give concrete meaning to the facts and figures that we know about deprivation and hardship.
Thompson and Austin use a few of the very familiar FSA photographs, in addition to many pictures that have seldom or never been published.
More than 100 black-and-white images are arranged by category, each chapter depicting a specific element of the daily lives of children.
Although the photographs are the defining feature of the book, compelling quotes transcribed by social workers of the era are interspersed throughout. Children of the Depression will appeal to lovers of great photography.
It will also serve as graphic representation for the generations that followed of the conditions that formed the values and aspirations of many of their parents and grandparents.
Information
Format: Hardback
Pages: 216 pages, 161 b&w photos
Publisher: Indiana University Press
Publication Date: 22/09/2001
Category: Photographs: portraits
ISBN: 9780253340313
Free Home Delivery
on all orders
Pick up orders
from local bookshops