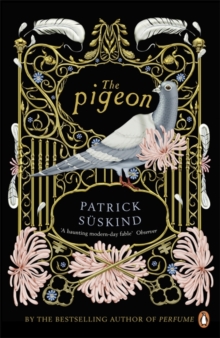 Description
Set in Paris and attracting comparisons with Franz Kafka and Edgar Allan Poe, The Pigeon is Patrick Suskind's tense, disturbing follow-up to the bestselling Perfume.
The novella tells the story of a day in the meticulously ordered life of bank security guard Jonathan Noel, who has been hiding from life since his wife left him for her Tunisian lover.
When Jonathan opens his front door on a day he believes will be just like any other, he encounters not the desired empty hallway but an unwelcome, diabolical intruder . . .
Information
Format: Paperback
Pages: 96 pages
Publisher: Penguin Books Ltd
Publication Date: 01/06/1989
ISBN: 9780140105834
Free Home Delivery
on all orders
Pick up orders
from local bookshops
Reviews
Showing 1 - 5 of 5 reviews.
Review by soylentgreen23
16/06/2015
Sometimes we can trace why we're having such a bad day to one event early in its conception. Here, that event is the sudden, unwelcome appearance of a pigeon in the hallway of Jonathan Noel's hotel. Upset by such a fright, his daily routine is thrown out of order and alignment, and everything that could go wrong goes wrong, in this Kafka-esque comedy.Suskind presents a character who has overcome much - a difficult childhood, a reluctance to socialise - and gives him, by day's end, a chance for redemption.
Review by Rynooo
16/06/2015
Very readable but felt like an inelegant attempt to ape Kafka.
Review by liibooks
16/06/2015
Jonathan Noel is just an ordinary man living in Paris, working as a security guard at a local bank. His only goal in life is to be invisible, where nothing really happens; nothing disturbs the monotony of his life. For many long years he lived just like that… till one morning when the pigeon alters his life forever. When I started to read "The Pigeon" I had already read "Perfume" which I found to be an exquisitely written book, so I was a little let down at first, but in the end I still enjoyed it.
Review by Vivl
16/06/2015
The premise seemed promising but I found this uninspiring.
Review by bonniemarjorie
16/06/2015
'At the time the pigeon affair overtook him, unhinging his life from one day to the next, Jonathan Noel, already past fifty, could look back over a good twenty-year period of total uneventfulness and would never have expected anything of importance could ever overtake him again – other than death some day.'

'The Pigeon' is an incredibly short story detailing a day (albeit a rather momentous day) in the life of Jonathan Noel. Jonathan leads a secluded and private life as a bank security guard in Paris. He enjoys the life he has made for himself and is perfectly content with it continuing as such for his remaining years; however, on his way to work one morning this all comes collapsing down around him as he discovers a pigeon on his front porch. As soon as the pigeon entered his life, his life literally came crumbling apart in his mind. All of his carefully made plans became as fragile as a snowflake.

'…but he suddenly no longer saw himself – that is, he no longer saw himself as a part of the world surrounding him. It was rather, as if for a few seconds he were standing far away, outside it, and were regarding this world through the wrong end of a telescope.'

I became an instant fan of Patrick Süskind after stumbling upon his novel 'Pefume'. It left such a permanent imprint on me and is still one of my favorite books to date. I'm not sure why I never looked into whether or not he had any additional works, but after embarking on my '1001 Books to Read Before I Die' reading challenge I discovered 'The Pigeon' as one of those 1001. Overjoyed, I knew I had to have it.

Patrick Süskind's writing is so thoroughly impressionable that earlier this afternoon I saw a pigeon on the side of the road and had to suppress a shiver as Jonathan's fears flooded my mind. Mildly amusing, but, I'm not sure I'll be able to look at a pigeon the same again. His descriptions of the pigeon and Jonathan's instant anxiety over the pigeon were immediately understandable even though, looking at the bigger picture, it seemed as if he made a fuss over nothing. I'll admit, I laughed at first because it seemed quite absurd, but as the story progressed you can see now it's not just the pigeon that affected poor Jonathan in that manner; it was just the catalyst to a series of events that disrupted his painstakingly normal existence.

I'm giving 'The Pigeon' 5 stars for one reason and one reason only (and it's not because it's as great a story as Perfume because it isn't): because he's a truly amazing writer. I will read anything written by Patrick Süskind. It's just such a shame that there aren't more novels of his in existence to read.