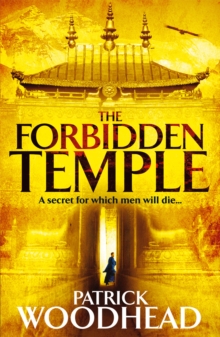 The Forbidden Temple
Paperback
Description
To Luca Matthews the dangers of the high mountain peaks are the air upon which he thrives.
In the ruthless pursuit of his goals he would sacrifice anything - even another climber's life.
His friends and family know and fear it. So when he sights a virgin peak in the Himalayas that exists on no map, no one is surprised when he becomes obsessed with being the first to scale it.
Together with his climbing partner, Bill Taylor, they set off into a region of Tibet highly restricted by the Chinese.
But a freak accident puts one of their team in mortal danger and it is left to a local Tibetan girl to lead them to Geltang, a monastery that has been hidden from the outside world since the Chinese Cultural Revolution, when most of the monasteries were pillaged and burned.
When the Chinese secret police get wind of them, Luca and Bill find themselves embroiled in an age-old struggle, not for their lives but to protect the precious secret that Geltang hides, and the legacy of Tibet itself.
Information
Format: Paperback
Pages: 384 pages
Publisher: Cornerstone
Publication Date: 13/05/2010
ISBN: 9781848090774
Free Home Delivery
on all orders
Pick up orders
from local bookshops
Reviews
Showing 1 - 1 of 1 reviews.
Review by vernefan
16/06/2015
Real life mountaineer and extreme adventurer Patrick Woodhead sets his first fictional novel in the enigmatic and lofty mountains of the Tibetan Himalayas. When longtime friends Bill and Luca, who have been scaling mountains together for 7 years, attempt Mt. Makalu, Luca gets a quick glimpse of a strange pyramid shaped mountain hiding behind clouds that has him believing he is hallucinating. Decending quickly due to an episode of altitude illness Bill suddenly incurred, Luca is bewildered as to what he actually saw. Months later after researching libraries for maps and Tibetan legends, he is determined to return to the peak to attempt another ascent. His belief is that what he saw was what the Tibetan legends call a beyul. A hidden valley sanctuary that is known to house temples of worship, and often treasure.Unknown to the two climbers are two other sets of travelers heading in the same direction; two different journeys with two conflicting purposes. Fast ahead of Luca and Bill is a camouflaged women who is harboring a secret and leading the next young reincarnated Panchen Lama to the Monastery of Geltang. Hot on the trail of both Bill and Luca as well as the woman and the boy, is a group of ruthless and murderous Chinese soldiers who will do anything from letting that boy take the throne.The Cloud Maker, or The Forbidden Temple (depending on which edition) is an ultimate thrill-ride adventure novel written in a literary style. Filled with detailed descriptions of the majestic Himalayan mountains that paint a vivid and evocative depiction of not only the country and culture of Tibet, but of their fascinating monastic life as well as their ongoing plight with the Chinese. Good characters, an enchanting Shangri-la like locale, exemplary writing, some edge-of-your seat cliffhanging suspense, and a darn good plot, all make this first installment of Woodhead's new series a winner. This reader eagerly awaits the next installment!