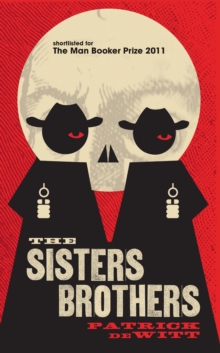 The Sisters Brothers
Paperback
Description
Hermann Kermit Warm is going to die. Across 1000 miles of Oregon desert his assassins, the notorious Eli and Charlies Sisters, ride - fighting, shooting, and drinking their way to Sacramento.
But their prey isn't an easy mark, the road is long and bloody, and somewhere along the path Eli begins to question what he does for a living - and whom he does it for. The Sisters Brothers pays homage to the classic Western, transforming it into an unforgettable ribald tour de force.
Filled with a remarkable cast of losers, cheaters, and ne'er-do-wells from all stripes of life-and told by a complex and compelling narrator, it is a violent, lustful odyssey through the underworld of the 1850s frontier that beautifully captures the humor, melancholy, and grit of the Old West and two brothers bound by blood, violence, and love.
Information
Format: Paperback
Pages: 325 pages
Publisher: Granta Books
Publication Date: 01/01/2012
Category: Historical fiction
ISBN: 9781847083197
Other Formats
CD-Audio from £15.45
EPUB from £7.19
Free Home Delivery
on all orders
Pick up orders
from local bookshops
Reviews
Showing 1 - 5 of 6 reviews.
Previous | Next
Review by riverwillow
16/06/2015
Like so many other reviewers here this is not my usual genre, but it was highly recommended by the owner of my local independent bookshop and, as usual, she was right.The story is narrated by Eli Sister, one half of the notorious Sisters Brothers, killers for hire. The brothers are travelling from Oregon to California tracking their latest target., but we also go on another journey with Eli as, as the brother move further west, Eli undergoes a spiritual crisis, as he begins to question the fundamental nature of his existence and his relationship with his older brother. Eli is an interesting companion, he is taciturn, often naive and seemingly incurious - we learn very little about the landscape they travel through, and, in the main, little about the majority of characters they encounter, most of who die violently - but his narration also richly evokes his spiritual quest.This is a violent, sometimes gory, but often hilarious, story. Superb.
Review by elliepotten
16/06/2015
'You have never thought about quitting?''Every man that has ever held a position has thought about quitting.'Okay, first up let me say that I would never normally have picked this novel up. Then I saw the folks on the TV Book Club gushing over it, proclaiming that it was perhaps their favourite book from their entire run and that it was a complete surprise - so I picked it up anyway. And I'm SO glad I did, because they were right - it WAS a complete surprise. Who would have thought that a western noir about a pair of assassins would have buried its way under my skin so completely?The book follows the fortunes of the notorious Sisters brothers, Eli and Charlie, as they set out on their latest job - to kill a man called Hermann Kermit Warm, on the orders of their boss, known only as The Commodore. Set against the California Gold Rush of the mid-19th century, their mission takes them from Oregon City to San Francisco and beyond, in search of the elusive Warm and his claim. Along the way they drink, flirt and fight with all kinds of weird and wonderful folks, from prospectors to prostitutes. It's quite a ride, for the brothers and the reader alike!The most important thing about the novel, and its main draw, is that it is entirely narrated by Eli Sisters - and what a narrator he is! I've never come across a cold-blooded killer I could really get behind in a book, but Eli was endearing, even loveable, from start to finish! His narration is spare, thoughtful, poetic, uncompromising, yet strangely innocent, almost childlike at times, and very amusing. That was one of the biggest surprises about the book - that it is so funny! The author has really given us a supremely human story in the most unlikely of settings - underneath the casual brutality this is a book about two brothers making their way in the world together, laughing, teasing, arguing and reconciling as they go. On this journey Eli is also questioning everything about his life: Will he ever be loved? What has been he missing while he's been under the Commodore's command? How is he different from Charlie? Does he want to be an assassin any more or is there a better future out there for him? He is no faceless killer, he is a man, with morals and a soft spot for his horse and a deep thread of kindness and generosity. A intriguing protagonist, indeed.Aside from his wonderful cast of characters, de Witt also offers us a fascinating insight into life in the American West during the Gold Rush. It is a brutal and lawless place, and he dunks his readers straight in there headfirst so we can almost taste the dirt, smell the cold metal of the brothers' pistols, hear the raucous laughter coming from the saloons... It was a time when men let their guns do the talking, gold fever swept across America, and San Francisco regularly burnt to the ground and had to be rebuilt as it struggled to cope with the influx of people hoping to make their fortunes from the nearby rivers. Through Eli, deWitt shows us 19th century California in all her terrible glory, and it is hard to tear yourself away from the pages once you've immersed yourself.I'd absolutely recommend this book, to men and women alike. There were moments that made me laugh, moments that made me well up, moments that made my heart sink and moments that made my eyes go wide... and I loved every last one of them. Eli might end up being one of my favourite characters of 2012 - he's such an unlikely and unusual hero - and his journey was exciting, compelling and pretty darn unforgettable. Put aside your feelings about westerns, about violence, about historical fiction, about Man Booker nominees, whatever's stopping you picking this book up, and just read it already!
Review by pgmcc
16/06/2015
Eli and Charlie Sisters are hired killers. This novel, narrated from the viewpoint of Eli, tells the tale of one of their jobs and gives the reader a glimpse into the thoughts of a killer.This is an enjoyable read with a level of violence that matches the environment of the story.
Review by fothpaul
16/06/2015
A good read with an ending I found a bit of a let down. I enojoyed the travels and adventures of the Sisters brothers as they searched for and found their latest victim. I enjoyed the existential crisis which Eli Sisters underwent through their travels. I enjoyed the character interaction and the humour present throughout the book. But at the end of it all I found myself thinking 'oh is that it'. I'm not sure why I was expecting a more profound conclusion as it was probably obvious throughout the book that this was not going to be the case, but I wanted something more. With a more satisfying ending it would have been given a better rating, but overall it was still an enjoyable read.
Review by passion4reading
16/06/2015
It's 1851 and the United States of America are in the grip of the gold rush. Charlie and Eli Sisters are two guns for hire who do the dirty work for a mysterious man called the Commodore, who we only meet near the end of the book. The book is told with Eli's voice, describing the brothers' journey from Oregon City to California, where the next 'job' is. On the way there, the brothers meet all sorts of colourful characters hoping to improve the quality of their, often miserable, lives in any which way they can. During the long hours in the saddle, Eli begins to examine his relationship with his brother and question what he does for a living.Intrigued by the notion that a gritty western was shortlisted for The Man Booker Prize, I approached the book with an open mind, not quite knowing what to expect. The appeal of the book for me stems from the account of life in the western United States, when the West was still wild, peopled with opportunists (or their victims) in every shape or form, and hardly an appealing character among them. I found in Eli a surprisingly sensitive and likeable narrator, despite being a cold-blooded killer, something that shows the author's particular sense of humour, and it is he who holds the novel together. Speaking of humour, it is of the wriest variety and pitch-black in nature, and probably not to everyone's liking. The prose, and the dialogue in particular, appear very laconic, befitting the image of a pair of hired assassins, and yet Eli's inner monologue betrays a depth of feeling and understanding of human and animal psychology that seems at odds with someone of his chosen profession. An unusual offering because of its chosen subject, but a piece of intelligent literature nonetheless.