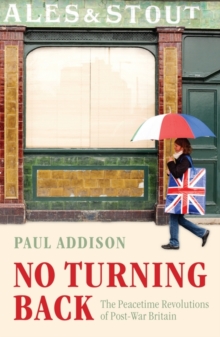 No Turning Back : The Peacetime Revolutions of Post-War Britain
Hardback
Description
In No Turning Back, Paul Addison takes the long view, charting the vastly changing character of British society since the end of the Second World War.
As he shows, in this period a series of peaceful revolutions has completely transformed the country so that, with the advantage of a longer perspective, the comparative peace and growing prosperity of the second half of the twentieth century appear as more powerful solvents of settled ways of life than theBattle of the Somme or the Blitz.
We have come to take for granted a welfare state which would have seemed extraordinary to our forebears in the first decades of the century, based upon the achievement of a hitherto undreamed of mass prosperity.
Much of the sexual morality preached if not practised for centuries has been dismantled with the creation of a 'permissive society'.
The employment and career chances of women have been revolutionized.
A white nation has been transformed into a multiracial one.
An economy founded onmanufacturing under the watchful eye of the 'gentlemen in Whitehall' has morphed into a free market system, heavily dependent on finance, services, and housing, while a predominantly working class society has evolved into a predominantly middle class one. And the United Kingdom, which once looked assolid as the rock of Gibraltar, now looks increasingly fragile, as Wales and especially Scotland have started to go their separate ways. The book ends with an assessment of the gains and losses that have resulted.
As this makes clear, this is not a story of progress pure and simple, it is a story of fundamental transformation in which much has been gained and much also lost, perhaps above all a sense of the ties that used to bind people together.
Paul Addison brings to it the personal point of view of someone who has lived through it all and seen the Britain of his youth turn into a very different country, but who in the finalreckoning still prefers the present to the past.
Information
Format: Hardback
Pages: 464 pages, 20 black and white halftones
Publisher: Oxford University Press
Publication Date: 17/06/2010
Category: British & Irish history
ISBN: 9780192192677