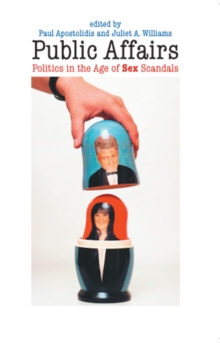 Public Affairs : Politics in the Age of Sex Scandals
Hardback
Description
Public affairs-or sex scandals-involving prominent politicians are as revealing of American culture as they are of individual peccadillos.
Implicated in their unfolding are a broad range of institutions, trends, questions, and struggles, including political parties, Hollywood, the Christian right, new communications technologies, the restructuring of corporate media, feminist and civil rights debates, and the meaning of public life in the "society of the spectacle." The contributors to Public Affairs examine, from a variety of perspectives, how political sex scandals take shape, gain momentum, and alter the U.S. political and cultural landscape.The essays in Public Affairs reflect on a number of sex scandals while emphasizing the Clinton/Lewinsky affair, certainly the most avidly followed and momentous sex scandal in American political history.
Leading scholars situate contemporary public affairs in the context not only of earlier sex scandals in American politics (such as Thomas Jefferson's and Sally Hemings's affair), but also of more purely political scandals (including Teapot Dome and Watergate) and sex scandals centered around public figures other than politicians (such as the actor Hugh Grant and the minister Jimmy Swaggart).
Some essays consider the Clinton affair in light of feminist and anti-racist politics, while others discuss the dynamics of scandals as major media events.
By charting a critical path through the muck of scandal rather than around it, Public Affairs illuminates why sex scandals have become such a prominent feature of American public life. Contributors. Paul Apostolidis, Jodi Dean, Joshua Gamson, Theodore J.
Lowi, Joshua D. Rothman, George Shulman, Anna Marie Smith, Jeremy Varon, Juliet A.
Williams
Information
Format: Hardback
Pages: 288 pages
Publisher: Duke University Press
Publication Date: 14/01/2004
Category: Regional studies
ISBN: 9780822332763
Free Home Delivery
on all orders
Pick up orders
from local bookshops