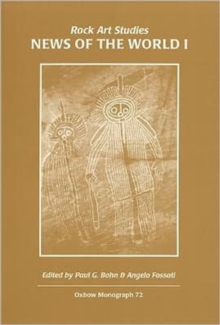 Rock Art Studies : News of the World I
Paperback / softback
Description
Essays on recent developments and recent discoveries in Rock Art research around the world, based on the proceedings of the 1995 Rock Art conference held in Italy.
This is the third in the five-yearly surveys of what is happening in rock art studies around the world, which builds upon the exciting contributions made in the first two volumes of this series.
As always, the texts reflect something of the great differences in approach and emphasis that exist in different regions.
The volume presents examples from Europe, Asia, Africa and the New Wrld.
During the period in question, 2000 to 2004, there have been few major events, although in the field of Pleistocene art many new discoveries have been made, and new country added to the select list of those with Ice Age cave art.
Some regions such as North Africa and the former USSR have seen a tremendous amount of activity, focusing not only on recording but also on chronology, and the accesible to the public is a theme of ever-growing importance, with some significant and interesting research undertaken on the impacts of visitors and how to measure and monitor those impacts.
The research described in this book contributes to our ever increasing knowledge of this fascinating component of the human past.
Information
Format: Paperback / softback
Pages: 229 pages, with numerous figures
Publisher: Oxbow Books
Publication Date: 01/12/1997
Category: Art of indigenous peoples
ISBN: 9781900188210