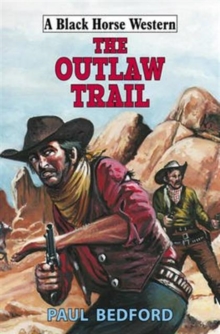 The Outlaw Trail
Hardback
Description
Former Marshal Rance Toller and the recently widowed Angie Sutter are travelling through Utah, en route to Arizona, as part of the infamous Outlaw Trail.
At a rundown trading post they reluctantly step in to save an elderly rancher from a vicious beating.
Rance is quickly recognized as a lawman, and soon every man's hand is turned against them.
One of his adversaries is Cole Hastings, a vicious rustler who has amassed a huge herd of stolen horses intended for sale to the US Army in Arizona.
But first he has to get them there. Dogging his trail is a Wyoming rancher, Chad Seevers, who not only wants his herd back, but also seeks revenge for the murder of one of his men.
Soon the three parties' paths will cross as they navigate the trail.
Who will make it to the end?
Information
Format: Hardback
Pages: 160 pages
Publisher: The Crowood Press Ltd
Publication Date: 01/10/2015
Category: Westerns
ISBN: 9780719816550