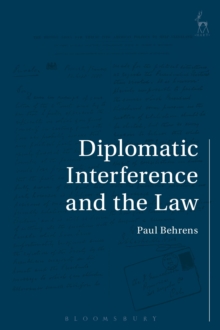 Diplomatic Interference and the Law
Hardback
Description
Diplomatic interference carries considerable potential for disruption.
In this context, diplomats have been accused of insulting behaviour, the funding of political parties, incitement to terrorism and even attempts to topple the host government.
Reactions can be harsh: expulsions are common and, occasionally, diplomatic relations are severed altogether. But an evaluation under international law faces challenges.
Often enough, charges of interference are made when legitimate interests are involved - for instance, when diplomats criticise the human rights record of their hosts.
In such cases, diplomats may be able to invoke grounds which are recognised under international law. On the basis of more than 300 cases of alleged diplomatic interference and the practice of about 100 States and territories, Diplomatic Interference and the Law provides an examination of the main areas in which charges of meddling have arisen - such as lobbying activities, contacts with the opposition, propaganda, the use of threats and insults and the granting of asylum.
It analyses situations in which the sovereignty of the receiving State meets competing interests and offers solutions which avoid a conflict of norms.
It concludes with useful advice for foreign offices and diplomatic agents and underlines the most efficient ways of dealing with situations of alleged interference. ''A book that is here to stay! It is essential reading for diplomats, academics, journalists, students and everyone who has an interest in international law and justice.
Based on rigorous research, Paul Behrens' book offers new and thoughtful perspectives on the Vienna Convention on Diplomatic Relations which we drafted in 1961.
It demonstrates just how important it is to have a lawyer of his impartiality and integrity if we want to reach peaceful and lasting solutions in international relations.
Diplomatic Interference and the Law has the makings of an instant classic, and I have no doubt that it will pave the way for the sorely needed reform of diplomatic law.''Dr Nelson Iriniz Casas, Vice President of the Committee of the Whole of the Vienna Conference on Diplomatic Relations in 1961; former Head of the diplomatic missions of Uruguay to Austria, Czechoslovakia, Hong Kong, Denmark and Sweden; author of Corrupcion en la ONU. ''Dr Behrens's book rigorously analyses the legal doctrine of non-interference by diplomats in their hosts' internal affairs, and how it may conflict with legal obligations to combat, for example, denial of self-determination and breaches of human rights.
Exhaustively researched and in accessible language, with copious, often entertaining examples, it will be an indispensable guide for diplomats. "Behrens on diplomatic interference" will be cited as the definitive authority on the matter for the foreseeable future.
I recommend this book to diplomats, lawyers and the general reader: they will all read and refer to it with profit and immense pleasure.''Sir Brian Barder KCMG, BA (Cantab.), is a former British ambassador to Ethiopia, Benin and Poland and High Commissioner to Nigeria and Australia. ''Paul Behrens' book breaks new ground. It is the first study to focus on the vexed question of diplomatic 'meddling' in the domestic affairs of the receiving State.
It has heightened topicality as many Western governments in their concern to promote human rights and democracy urge their diplomats to be active in their support of civil society, particularly in countries with authoritarian governments.
This book is replete with case studies covering the 50 years since the signature of the Vienna Convention and provides an invaluable pathway through this legal minefield.''Sir Ivor Roberts KCMG FCIL, President of Trinity College, Oxford; Former British Ambassador to Yugoslavia, Ireland and Italy
Information
Format: Hardback
Pages: 536 pages
Publisher: Bloomsbury Publishing PLC
Publication Date: 24/03/2016
Category: Diplomatic law
ISBN: 9781849464369
Other Formats
Paperback / softback from £36.99
Free Home Delivery
on all orders
Pick up orders
from local bookshops