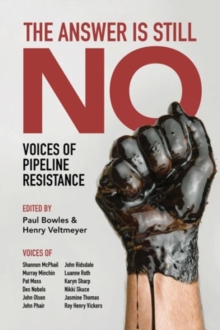 The Answer Is Still No : Voices of Pipeline Resistance
Paperback / softback
Description
The Answer Is Still No is an important, urgent book that compiles interviews with people who live along the route of the proposed Enbridge pipeline in Northern British Columbia.
The oil pipeline and supertankers - linking the tar sands of Alberta to the demand of the growing Asian market - are a key component of Canada's strategy of natural resource extraction.
But for the people living along the proposed pipeline route, Enbridge poses a massive environmental risk, which threatens their way of life.
This edited collection takes the passionate words and voices of twelve citizens and activists and results in one powerful position when it comes to blind economic development at the expense of our environment and communities: The answer is still "no." "The oil and gas industry has wanted into the west coast for decades. This is an ongoing struggle between the people who live here and have access to the marine resources now, the fish, and the industry, which wants in either for tanker traffic or offshore drilling.
The government is on the oil industry side and they implement policies to weaken us."- Luanne Roth, Prince Rupert "[There is] is a great saying: 'If we don't speak for the animals, the fish and the birds, who will?' Simple, very simple, very to the point. And how could we give up something that our great-great-grandchildren will ask us one day 'Why don't we have this anymore?
Why didn't you stop this then?' We don't have a right to let that happen." - John Ridsdale, Hereditary Chief Na'Moks, Office of the Wet'suwet'en
Information
Format: Paperback / softback
Pages: 156 pages
Publisher: Fernwood Publishing Co Ltd
Publication Date: 18/07/2014
Category: Demonstrations & protest movements
ISBN: 9781552666623
Free Home Delivery
on all orders
Pick up orders
from local bookshops