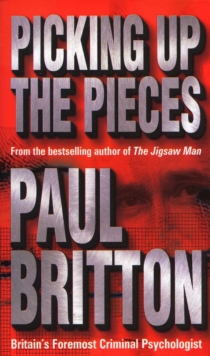 Picking Up The Pieces
Paperback
Description
The extraordinary and fascinating new book by the author of the award-winning bestseller The Jigsaw ManForensic psychologist Paul Britton can 'walk through the minds' of those who murder, rape, torture, extort and kidnap.
He can see the world through their eyes and know what they're thinking.
That is why the police have called on him to help with many high-profile criminal investigations and catch those responsible. How does he do it? Paul Britton's newest book, Picking Up the Pieces, reveals the psychological and forensic foundations upon which he has based his expertise.
It is a remarkable journey into the darkest recesses of the human mind.
From top security prisons and mental hospitals to ordinary outpatients' clinics, Britton introduces us to his clinical and forensic work.
A man turns into a werewolf at four o'clock every afternoon.
Another has built an electric chair in his basement to kill his father.
A woman accepts the blame for abusing her child when she had nothing to do with it.
How can they be helped? When Britton so accurately profiled the child killers of Jamie Bulger in Liverpool, or told police the true nature of Frederick and Rosemary West, he could do so because he had treated disturbed children and confronted sadistic sexual murderers in his consulting room. For twenty-five years Britton has interviewed, assessed and treated people with damaged or broken minds.
Some were responsible for terrible crimes, others were stopped before it was too late.
The answers aren't hidden at bloody crime scenes or in the post-mortem photographs.
Instead, the truth is often locked away within someone's mind or deep in their past. Picking Up the Pieces is not a sequel to Britton's award-winning autobiography The Jigsaw Man, but a companion volume that shows the heart of his work and the knowledge that underpins his conclusions.
It is a unique and revealing book that will fascinate and provoke discussion. Paul Britton was born in 1946. Following degrees obtained in psychology from Warwick and Sheffield universities, he has spent the last twenty years working as a consultant clinical and forensic psychologist.
He has advised the Association of Chief Police Officers' Crime Committee on offender profiling for many years and currently teaches postgraduates in clinical and forensic psychology.
He is married with two children. Paul Britton is the author of Picking Up the Pieces and The Jigsaw Man, which won the Crime Writers' Association Gold Dagger Award for Non-Fiction.
Information
Format: Paperback
Pages: 608 pages
Publisher: Transworld Publishers Ltd
Publication Date: 01/06/2001
Category: True crime
ISBN: 9780552147187
Free Home Delivery
on all orders
Pick up orders
from local bookshops
Reviews
Showing 1 - 1 of 1 reviews.
Review by miketroll
16/06/2015
An autobiographical account of serious crime detection by a British "psychological profiler". This kind of writing naturally appeals both to a prurient appetite for forensic detail and to lovers of classic fictional detectives. Holmes, Poirot, Marple etc are all amateur outsiders whose brilliance effortlessly succeeds while the professionals flounder. Who does not enjoy such fantasies?But here's the key difference: Britton is not fictional and writes as his own Dr Watson. Whatever the scientific pedigree of psychology and psychoanalysis, they have long been accepted as medical skills in prisons and hospitals. More recently this acceptance has extended to forensics, and profilers like Britton are often "called in" Holmes-like to assist a police investigation. Britton's tone is self-vindicatory. He does little to demystify his shamanic role. His endless overtime hours are a necessary self-sacrifice due to a sad shortage of fellow magicians. But if psychological profiling is a true science, surely its tools can be made accessible to the average cop?Britton, by the way, was the profiler in the famous Rachel Nickell murder investigation. (He describes this himself in another book.) The case culminated in the summary acquittal of Colin Stagg after the judge ruled the entire police evidence inadmissible. It all arose from an improper "agent provocateur" exercise in which Britton played a significant role. Postscript: DNA evidence has since conclusively proven Stagg's innocence and Britton's hubris.
Also by Paul Britton