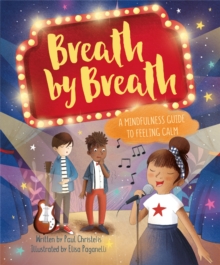 Mindful Me: Breath by Breath: A Mindfulness Guide to Feeling Calm
Hardback
Description
Billy and Betty are bored. It's raining, they have no internet connection, there's nothing to do.
Then, the doorbell rings. A cheerful, rain soaked woman introduces herself: she's selling secrets.
All it will cost is 5 minutes of their time. 'What's the biggest secret in the world?', the children ask. 'It's right under you nose!', she replies. 'But there's nothing there!' 'Look again. But not with your eyes.' When they look again, with their awareness, they find the breath.
They feel it move. Over the next few pages they are guided through a mindfulness exercise, feeling their breath like waves rising and falling.
Each wave feels different. 'Wow, I never realised there is a whole sea inside of me!' 'And there's another secret too!', the woman says, as she leaves. 'But you need to find that out for yourselves...All it takes is five minutes of breathing a day'.
The children sit and wonder what the secret is. It's still raining outside. There is still nothing to do. But, strangely, they no longer feel bored. In fact, they feel calm. And full of ideas! 'Let's paint the sea!' So...do you know what this secret is?Mindfulness practices (exercises) are integrated into each story, and expanded on in the 'Notes to Parents and Teachers' section at the end of the books.
Readers are invited to PAUSE at various points in the story to notice their own present moment experience.
The four stories in the 'Mindful Me' series explore how a mindful attitude to life can enhance enjoyment, promote a sense of calm and confidence, and provide young people with a 'friend for life'.
The books can be used at home or in the classroom, for storytime or as part of the PSHCE curriculum. The other titles are: Emotions and Me: A Mindfulness Guide to Exploring Emotions It's Beautiful Outdoors: A Mindfulness Guide to Noticing Nature Sleep Easy: A Mindfulness Guide to Getting a Good Night's Sleep
Information
Format: Hardback
Pages: 32 pages
Publisher: Hachette Children's Group
Publication Date: 28/03/2018
ISBN: 9781445157030
Free Home Delivery
on all orders
Pick up orders
from local bookshops
Also in the Mindful Me series