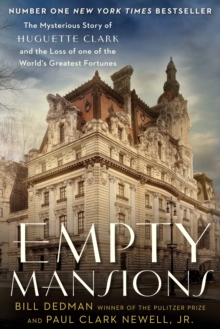 Empty Mansions : The Mysterious Story of Huguette Clark and the Loss of One of the World's Greatest Fortunes
Paperback
Description
Empty Mansions is a rich mystery of wealth and loss, connecting the Gilded Age opulence of nineteenth-century America with a twenty-first-century battle over a $300 million inheritance.
At its heart is a reclusive heiress named Huguette Clark, a woman so secretive that, at the time of her death at age 104, no new photograph of her had been seen in decades.
Though she owned palatial homes in California, New York, and Connecticut, why had she lived for twenty years in a simple hospital room, despite being in excellent health?
Why were her valuables being sold off? Was she in control of her fortune, or controlled by those managing her money?Huguette Clark was the daughter of self-made copper industrialist W.
A. Clark, nearly as rich as Rockefeller in his day, a controversial senator, railroad builder, and founder of Las Vegas.
She grew up in the largest house in New York City, a remarkable dwelling with 121 rooms for a family of four.
She owned paintings by Degas and Renoir, a world-renowned Stradivarius violin, a vast collection of antique dolls.
But wanting more than treasures, she devoted her wealth to buying gifts for friends and strangers alike, to quietly pursuing her own work as an artist, and to guarding the privacy she valued above all else.Empty Mansions reveals a complex portrait of the mysterious Huguette and her intimate circle.
We meet her extravagant father, her publicity-shy mother, her star-crossed sister, her French boyfriend, her nurse who received more than $30 million in gifts, and the relatives fighting to inherit Huguette's copper fortune.
Richly illustrated with more than seventy photographs, Empty Mansions is an enthralling story of an eccentric of the highest order, a last jewel of the Gilded Age who lived life on her own terms.
Information
Format: Paperback
Pages: 496 pages, 73 b&w integrated and 3x8pp colour photographs
Publisher: Atlantic Books
Publication Date: 29/01/2014
Category: Biography: general
ISBN: 9781782394761
Free Home Delivery
on all orders
Pick up orders
from local bookshops
Reviews
Showing 1 - 1 of 1 reviews.
Review by Carpe_Librum
27/08/2015
Until I came across Empty Mansions by Bill Dedman and Paul Clark Newell, Jr, I had never heard of Huguette Clark and her story intrigued me right away.With a fortune of almost $300 million dollars, this shy and reclusive American heiress spent the last twenty years of her life cooped up in a hospital room, despite being perfectly healthy.An eccentric woman who gave $30 million dollars in gifts to her nurse and wrote cheques to others almost every day, Huguette had a love of cartoons and often watched The Smurfs and The Flintstones.Huguette was a musician and painter at heart and owned many priceless artworks including paintings by Degas and Renoir. She also collected hundreds upon hundreds of dolls and dollhouses. Huguette owned several magnificent homes, although hadn't stayed in some of them for decades.When Huguette Clark died at the age of 104, 19 family members tried to get their hands on her money. Paul Clark Newell Jr is a relative of Huguette and together with Bill Dedman bring us the details of this amazing woman and her life in Empty Mansions - The Mysterious Life of Huguette Clark and the Spending of a Great American Fortune.A fascinating read which had me diving for Wikipedia to see what her dolls or mansions looked like, I thoroughly enjoyed reading Empty Mansions. If my snippets above piqued your interest at all, you'll love this one too.
Also by Paul Clark Newell