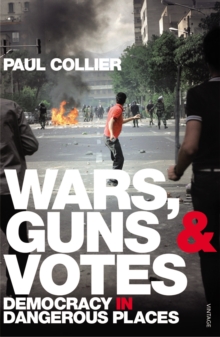 Wars, Guns and Votes : Democracy in Dangerous Places
Paperback
Description
The world is in a mess. For more than a billion people, everyday life is played out against the backdrop of civil wars, military coups and failing economies.
For them, the peaceful democracy taken for granted in the West seems an impossible pipe-dream.
But solutions do exist - it is up to us to achieve them.
Award-winning academic Paul Collier's vision for the future of the developing world is eye-opening, provocative and refreshingly unequivocal.
Information
Format: Paperback
Pages: 272 pages
Publisher: Vintage Publishing
Publication Date: 01/02/2010
Category: Development studies
ISBN: 9780099523512
Free Home Delivery
on all orders
Pick up orders
from local bookshops
Reviews
Showing 1 - 1 of 1 reviews.
Review by Popup-ch
16/06/2015
Paul Collier has previously written a host of academic papers on the subject, but this is a much more informal (occasionally quite chatty) monologue, where he explains why democracy doesn't work in poor countries and finally proposes a solution to the 'Africa problem'.His premise is simple: Democracy is good - but only if the elected government is accountable to the electors. In poor ethnically diverse countries this doesn't work, and therefore elected presidents see office as an opportunity to enrich themselves (and especially their cronies, upon whom they rely to stay in power). For a president in a poor country elections are great - they are easy to manipulate¹, and give the winner respectability in the eyes of the 'international community'.For the people, on the other hand, elections mean worse conditions, as the leader concentrates his energy on being re-elected rather than doing any public good.The main risk of losing power in a poor country is not loss at the election polls, but rather a coup by your erstwhile cronies in the army. Since decolonisation in the 1960's there have been 80 successful coups in Africa alone, but only a handful of president who have left office after losing an election. And coups are intrinsically dangerous, as they also increase the risks of new coups and civil war.His proposed solution is too complex to put forwards in great detail, but in short it's the following:- The main threat to a ruler is the constant risks of coups.- The 'international community' can pledge to thwart any attempt at a coup if and only if the ruler was elected in a free and fair election.He claims that this would be enough of a guarantee to secure reasonably fair elections², and he also suggests similar schemes to cut down on gun-running and corruptionHe also makes an interesting historical parallel between the decolonization of Africa and the de-romanization of Europe. During the Dark Ages Europe descended into chaos, and regional warlords battled it out for several centuries before homogeneous nation-states started to coalesce around the stronger armies. In Africa the borders have been frozen in a post-colonial stasis, with 53 countries (54 with South Sudan), where half a dozen would be better. The current African states are too large to be homogeneous (they invariably contain several ethnic groups), but too small to be efficiently run - there's economy of scale in many parts of government - especially security³.The text is also interspersed with a very dry wit. He talks about the danger of doing research in some of these very violent surroundings, where people are being tortured and killed - because his grant might run out.Rating: Four stars: ?????¹He gives a long list. From simple media domination, via more targeted propaganda to bribery, ethnic conflicts, violence, and declaring your opponents illegible.²The one scenario that he doesn't consider, though is the following: What happens if an openly unfair government gets elected? I'm thinking along he lines of the Hutu government of Rwanda, or if the Muslim Brotherhood were to gain power in Egypt³The obvious counter-examples of Luxembourg and Lichtenstein have both given up a certain degree of national sovereignty.